The Partnership
Case Study - Placing a powerbank station in a shopping mall
Shopping malls or shopping centres can be a great space for a larger kind of powerbank sharing stations with a screen and plenty of powerbanks. 5 possible reasons for a shopping mall to install a Large powerbank station: A powerbank station creates value for the mall visitors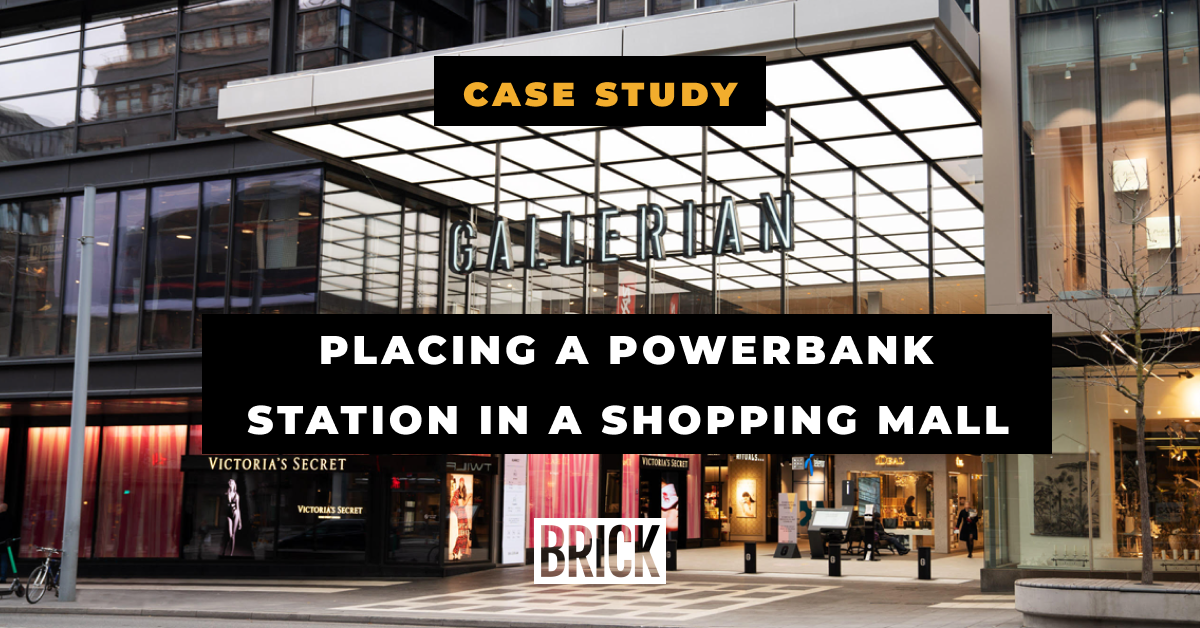 Shopping malls or shopping centres can be a great space for a larger kind of powerbank sharing stations with a screen and plenty of powerbanks.
5 possible reasons for a shopping mall to install a Large powerbank station:
A powerbank station creates value for the mall visitors
Battery anxiety strikes pretty much everyone whose phone is dying when they're out shopping. Being able to provide a way for anyone to charge their phone in a time of need might not seem like a huge deal, but for someone whose phone is dying it can be a life saver. Allowing people to go on with their day the way they planned it creates customer value.
A powerbank station leads to increased dwell time
Speaking of allowing people to go on with their day. We can't forget how important a phone can be to the shopping experience itself. Perhaps you're searching online for the perfect pair of running shoes while deciding which store to visit? Or, what if you are waiting for a friend but are not sure when and where they will show up? Perhaps you found a perfect gift for your mother and you need to send a picture of it to your sister? A powerbank allows for moments like this, and in turn moments like this increases the chances of visitors staying longer, i.e. increased dwell time.
A powerbank station gives staff more time to focus on what matters
When a powerbank station has been installed (simply put, plugged in and turned on) it's fully automated and ready to go. Just place it where people can find it and let it work by itself. This means the staff can focus on their tasks and just refer to the station for all visitors charging needs.
A powerbank station brings more traffic to your mall
Most powerbank sharing services have an app where you can see nearby stations. This means that any app user in need of some extra battery can find the charging station in the shopping mall. And while you're already at the mall, you might as well get those socks you need and maybe a latte?
A powerbank station with a screen provides advertising opportunities for malls
The screen can work as a communication platform both for the powerbank sharing company and for other venues and services located in the mall itself.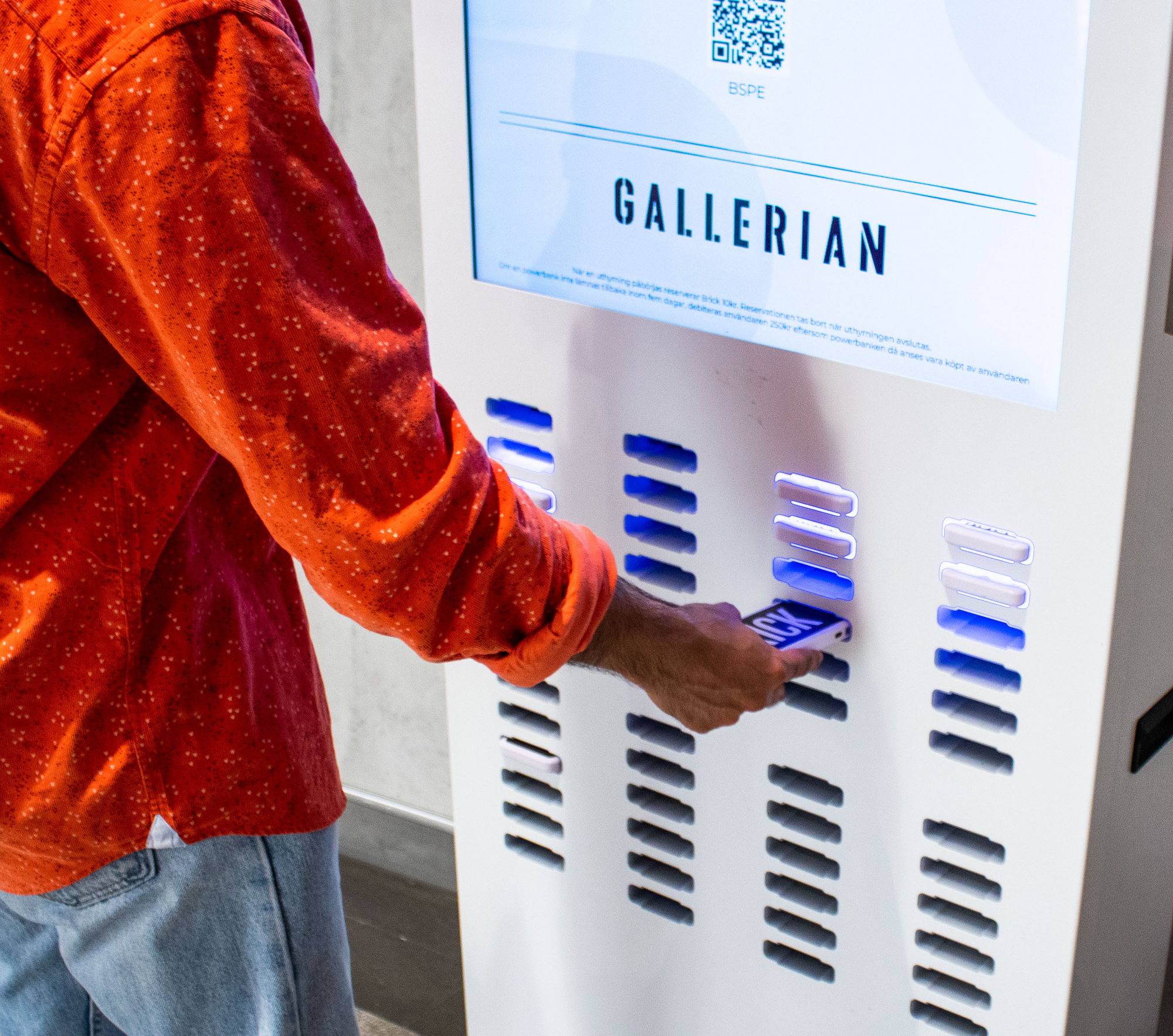 A Swedish Case study
In 2020 Brick installed a Large 48 slot powerbank station at Gallerian in central Stockholm.
Gallerian is one of the oldest shopping malls in Stockholm, opening in 1976. The New Gallerian has more than 50 stores that offer everything from fashion, to electronics and toys. There are also 24 different restaurants and cafés with everything from fast food to fine dining and a climbing gym.
According to data gathered until the end of November 2022:
Averaging 350 rentals per month

During this time the Brick users have stayed at Gallerian for an average of  85 min in comparison to the national average dwell time at a shopping mall in Stockholm that is 18 min.
Operational and technical support hours needed for the station during this time is less than 1 hour/month.
A quote from Sandra, Marketing Director at Gallerian:
"In the New Gallerian we want to be able to offer our customers different types of services that create customer value. Brick is appreciated by Nya Gallerians customers, they feel the shopping experience is smoother and you don't have to carry your own charger. This lets the customers stay longer without having to worry about their phones' battery life. They also feel the payment system is simple and we can see a lot of returning users."

In conclusion, Shopping malls are ideal locations for larger stations such as a 48 slot powerbank station. A station with room for up to 48 powerbanks fulfills the charging needs for a large number of people and in a shopping mall it can make an impact for several venues at once.
For more information visit our website or go ahead and apply to become a network partner