Brick Software
About the Brick App
The Brick app is the heart and soul of the Brick ecosystem, developed by Brick's very own team. It is the tool to use our sharing infrastructure.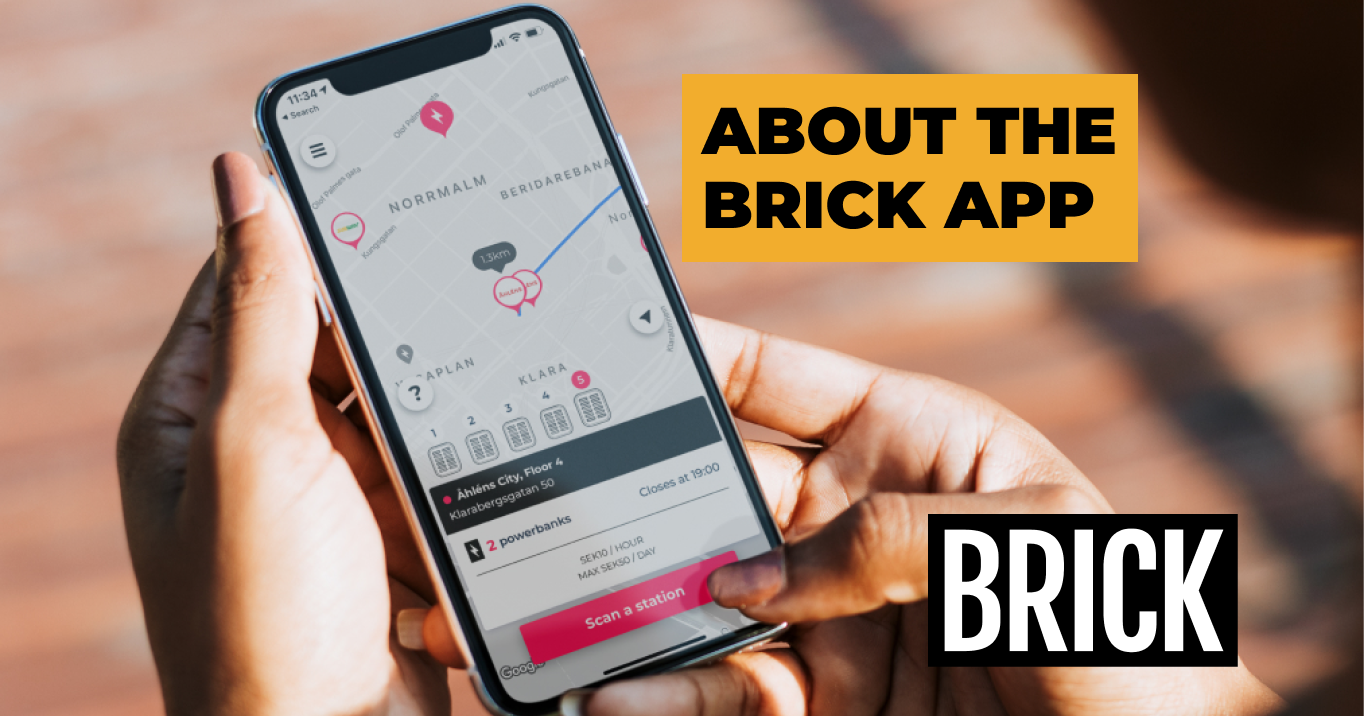 The Brick app is designed to make powerbank sharing a seamless experience for users. Developed by our team at Brick HQ, the app puts the power in your hands to easily locate stations in venues, interact with them, and make quick and secure payments for your powerbank rentals!
With a simple scan of the station, you can rent a Brick powerbank, charge your device on-the-go, and return it to any station when you're done. Available for both Android and iOS users, the app is regularly updated with new features to enhance your user experience.
Where is the Brick app available?
Whether you're an iOS or Android user, you can download the app for free from the App Store or Google Play. However, there's no need to worry about downloading the app before using a Brick station. When you're in front of a Brick station without the app, simply use your phone's camera to scan the QR code on the station. This will automatically redirect you to the relevant app store where you can download the app and rent a powerbank. Enjoy the simplicity and accessibility of the Brick app, ensuring you're always ready to charge on-the-go!
How do I get started with the Brick app?
Getting started with the Brick app is quick and easy. Download the app from the App Store or Google Play, sign up for an account using your phone number, and upload a payment method of your choice. We accept major credit cards like Mastercard and Visa, as well as popular digital payment platforms including Apple Pay, Google Pay, and PayPal.
With your account set up, you'll be ready to start renting a Brick powerbank in less than 5 minutes. Plus, the app securely stores your information for faster and more seamless rentals in the future.
What are the features of the Brick app?
The Brick app is all about convenience. With a built-in QR scanner, you can easily start and pay for power bank rentals. Need to find a station? No problem! The app's map feature will guide you to the nearest locations. Plus, you can keep track of your rental history and reach out to customer support if needed. Just download the app, scan, charge, and go!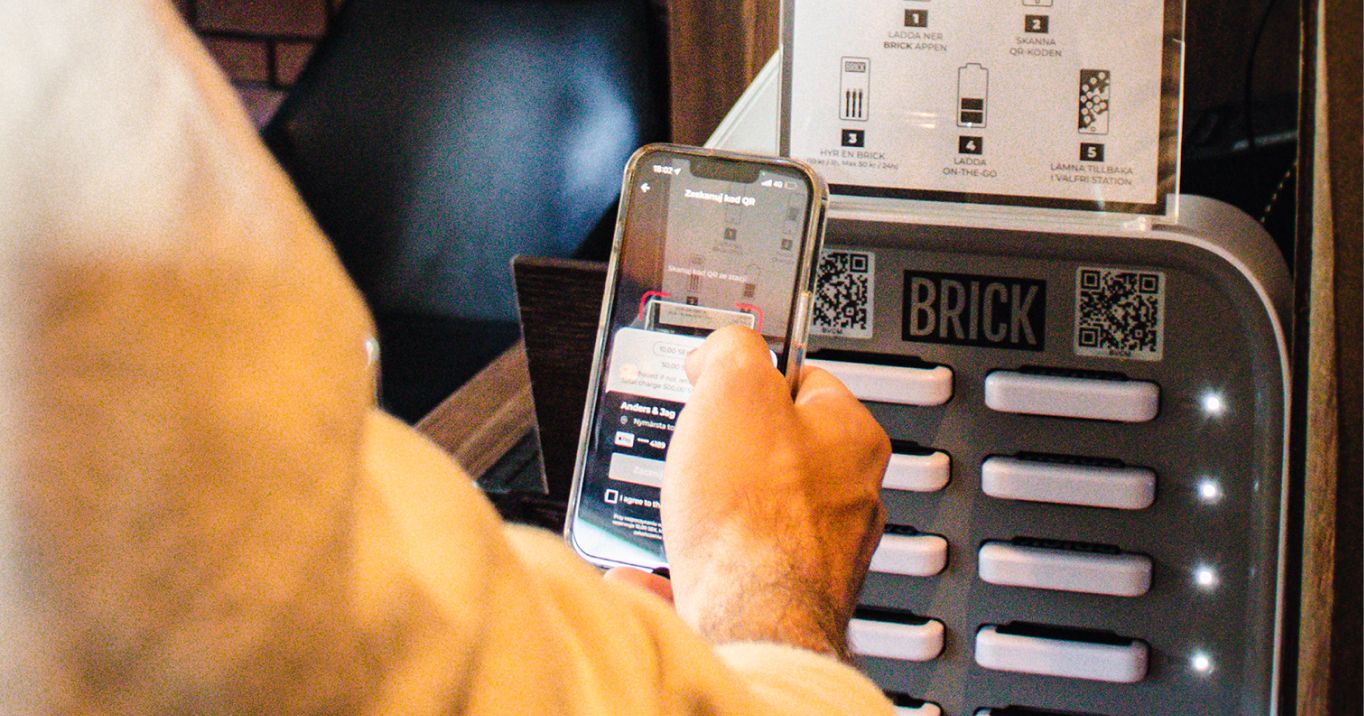 Scan stations to rent powerbanks
To start your rental, simply press the "Scan a Station" button on the home screen of the Brick app. Use the camera to scan the QR code on the station or manually enter the code if needed. Once your payment is confirmed, a power bank with multiple charging cables will be released for you to use.
When you're done, simply return the power bank by pushing it back into any available slot. Listen for a click or look for the illuminated light indicating a successful return. That's it! Your rental is complete, and the app will handle the rest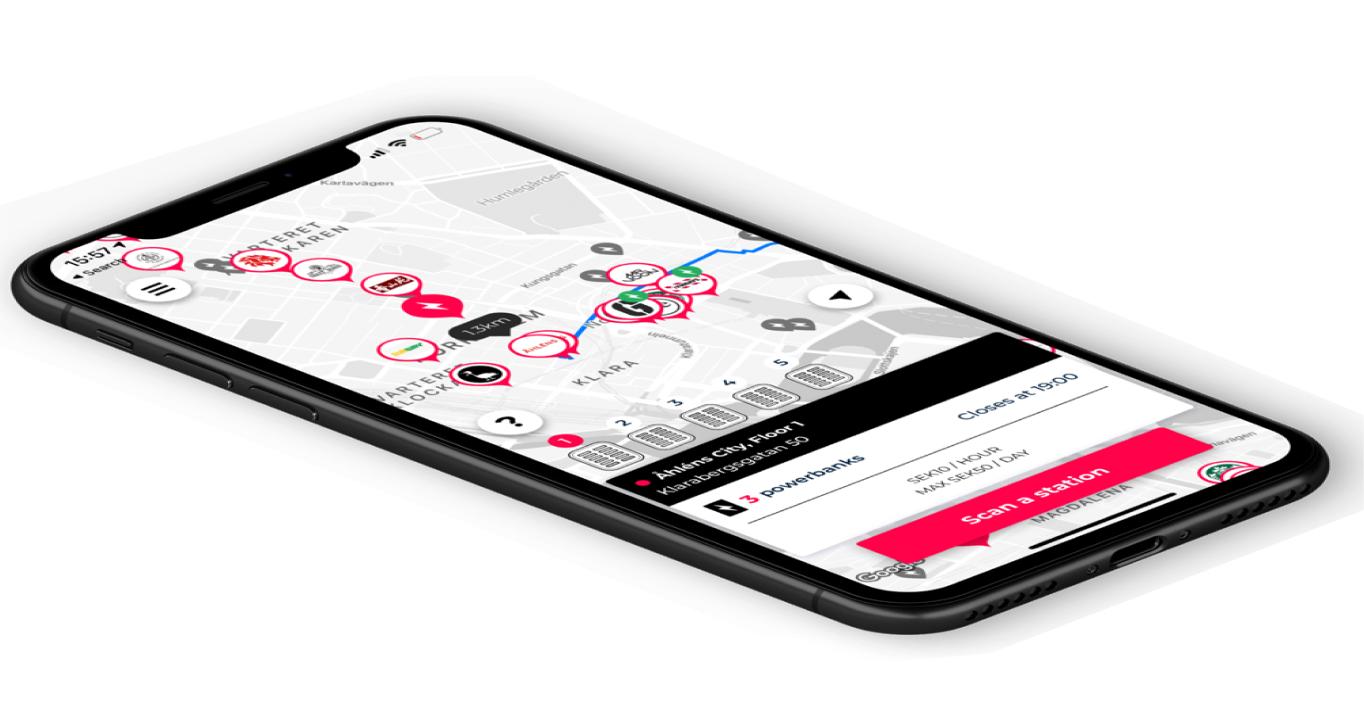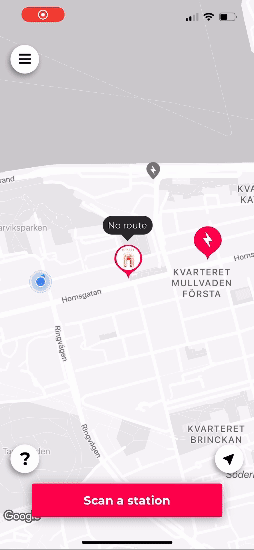 Locate nearby stations
On the homepage of the app, the user will see a map featuring the locations of where Brick stations can be found. There are a couple of additional data points shown in the app as well, such as the venue, station, and powerbanks.
Venue name and address
Number of available power banks in the station
Closing time of the venue
Hourly or 30-minute charge for power banks
Maximum cost per day
Currency information
Rental breakdown indicating rental period and total charge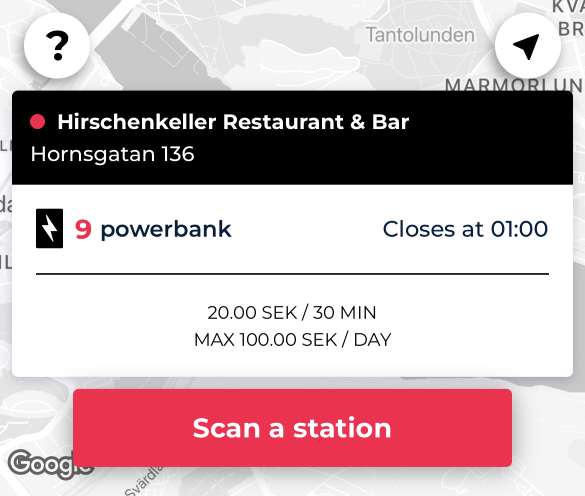 Rental information and history
In the app's menu, you'll find a variety of useful features. Simply navigate to "My Account" to access a range of information and options. Here, you can review your rental history, track past payments, invite friends and earn free rentals (3 Bricks as a reward), update your user details such as name and phone number, and customize your settings.
The menu also offers promo codes, credits, and other related features.
When it comes to rental history, you'll have a complete record of all your past and ongoing rentals. You can easily see the dates, times, and total costs of each rental. Additionally, there's a summary of important rental details, including the venue, payment method, and even the option to download a receipt in PDF format. It's a convenient way to keep track of your rental activities within the app.
Customer Support
If you encounter any issues with the station, powerbank, or payment, don't worry! You can easily reach out to our customer support team through the dedicated section in the main menu of the Brick App.
We strive to provide assistance and our typical response time is within 1-2 business days. Feel free to write to us in your preferred language!
If you haven't downloaded our app to rent a powerbank in your area then head over to your App Store or Google Play, and check us out!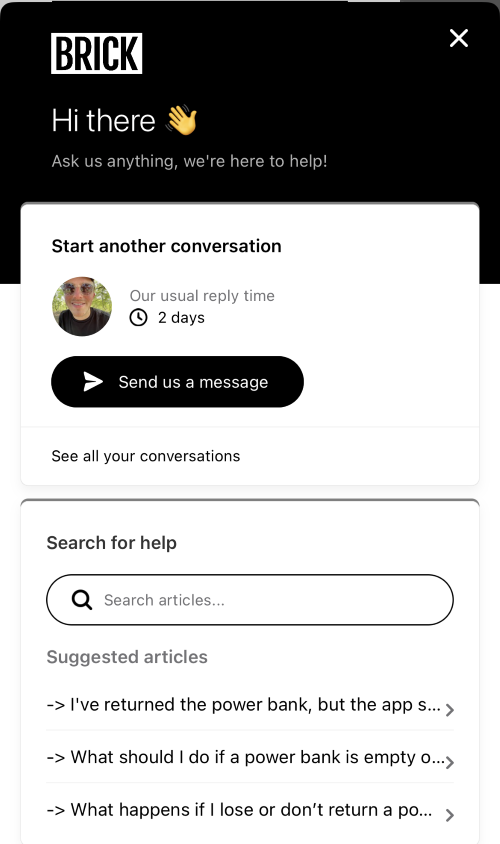 Become a Brick Partner
Powerbank sharing with Brick holds promising prospects for your success! A Brick Representative is ready to connect with you when you are. You can continue reading the essentials of a Brick partnership or get in touch.