Powerbank Station Sales
Why Powerbank Stations are Great for Arenas
Arenas and live show venues are upping their game to enhance visitor experience with powerbank stations. Here's why they're a game-changer.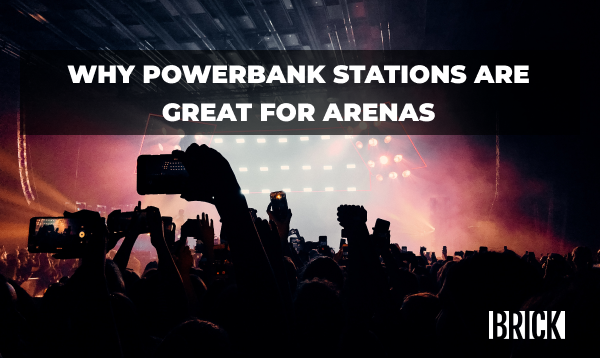 Arenas and live show venues are getting creative to improve the visitor experience and increase engagement. One such solution gaining popularity is offering power bank rentals through Brick stations. By providing this convenient service, arenas ensure that the attendees can capture memories, stay connected, and enjoy the event to the fullest.
Let's explore why arenas should have power bank sharing stations readily available for their next big event, transforming the live show experience.
Improved visitor experience
Live shows are all about creating magical moments, we don't want your visitors to miss out on any of them! With power bank rentals available, attendees can snap photos, stay connected, and make the most of event apps without worrying about draining their batteries. It's the perfect way to ensure a seamless and unforgettable experience as they bring their rented power banks right into the arena.
Increased event engagement
Fully charged smartphones allow attendees to share their experiences, participate in interactive elements, and enjoy event-specific features. Power bank rentals encourage engagement, creating a more vibrant and dynamic atmosphere! This not only enhances the event itself but also has the potential to attract future attendees. The engagement extends even beyond the event as visitors have the opportunity to upload photos, share locations, and engage in other battery-intensive activities.
Extended stay and boosted spending
Long events require attendees to stay for hours, limited battery life can be a real buzzkill. Power banks enable them to stay longer without the worry of their devices running out of battery. Why let your visitors slip away to another establishment just to charge their devices? By offering power bank rentals, arenas open the doors to a truly immersive experience. This not only keeps attendees engaged but also boosts concession sales and merchandise purchases. After all, when your visitors are fully charged and captivated by the event, they're more likely to indulge in all the offerings arenas have in store!
Differentiation and competitive advantage
Introducing power bank rentals sets arenas apart from the competition, showcasing a commitment to customer satisfaction and embracing innovative solutions. It appeals to tech-savvy attendees who prioritize staying connected and positions the arena as a cutting-edge destination that knows how to take the show to the next level.
Additional revenue stream
Power bank rentals not only attract visitors but unlock income possibilities. Imagine partnering with industry leaders like Brick, who offer revenue sharing and advertising income with stations with captivating LCD screens.
Spark excitement
Power bank rentals are a game-changer for arenas in today's digital age. By enhancing the visitor experience, increasing engagement, and providing accessibility, arenas can truly create unforgettable moments.
Are you an arena director searching for that extra touch to enhance your venue? Look no further! Order a Brick power bank station and provide your visitors with a convenient charging solution that will elevate their experience. Don't miss your cue to go the extra mile and leave a lasting impression on your audience!
Become a Brick Partner
Becoming a Brick partner can get you started with €4580 as a minimum initial investment. 20 stations will be the perfect launching pad for your network, giving you the boost you need to kickstart your network. It might be enough for you, but why not seize the opportunity to expand and grow? The possibilities are endless, and we're here to support you every step of the way!
Tune into some Brick-themed Jams! 👇
Feeling inspired and excited to start your journey with Brick? Use the Brick-themed playlist below as inspiration while you apply for a partnership with us below!