Brick Hardware
Our Hardware Warranty – Everything You Need to Know
Our stations go through quality control and testing before shipping. However, damages can still occur during transportation. Hence our 1-year Factory Warranty to cover manufacturing or shipping faults.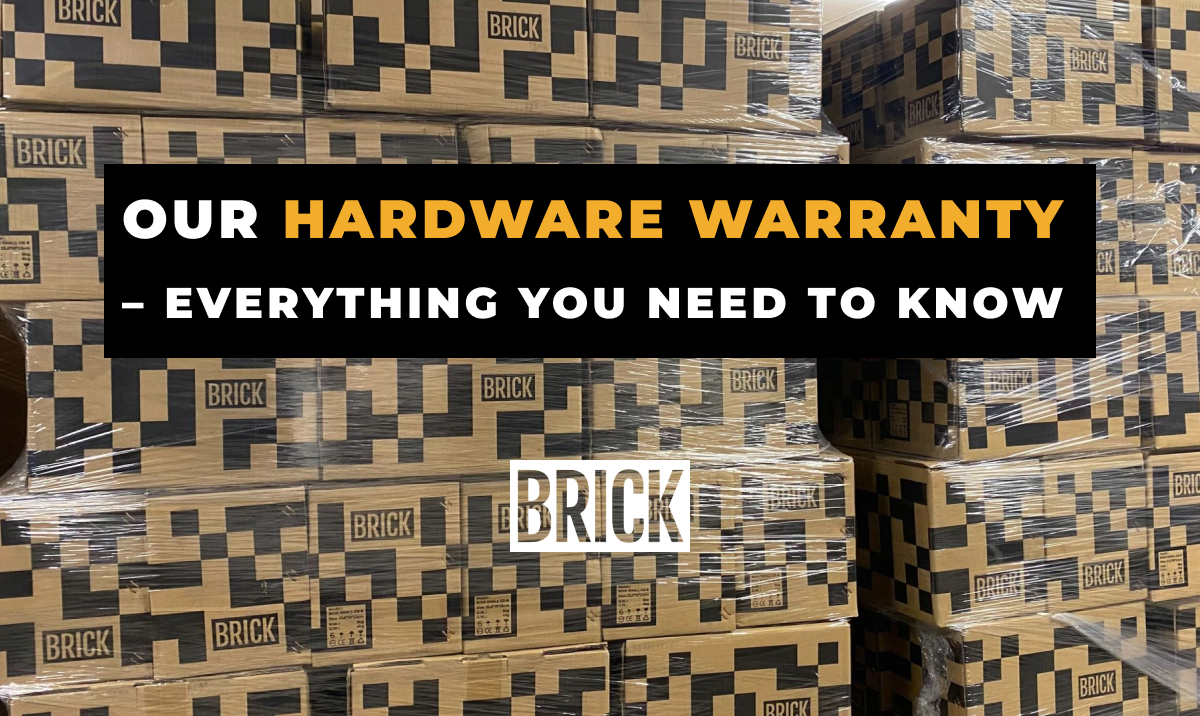 Factory Warranty
To ensure the quality of our stations, all units undergo thorough quality control and testing before they are shipped to our partners. However, despite our best efforts, damages can occasionally occur during transportation. That's why we provide a 1-year Factory Warranty for all purchased Brick stations, which covers any manufacturing or shipping faults.
Upon receiving your stations, it is important to test them immediately! Even if you plan to store them for a period of time. This allows you to identify and report any issues or damages to us promptly. If any problems are found, we will provide appropriate compensation or assistance to resolve the issue.
What about placed stations that break?
If a Brick station placed in a bar starts malfunctioning after a few months of operation, it is important to understand the cause of the malfunction. Brick will provide support to diagnose and identify the issue. This process is beneficial not only for resolving the current case but also for improving our future product development.
The coverage of the Factory Warranty for the specific malfunction depends on the nature and cause of the issue. The warranty typically covers manufacturing or shipping faults, ensuring that the station is in proper working condition upon receipt. However, if the malfunction is determined to be caused by factors such as user misuse, external damage, or other non-warranty-related issues, it may not be covered under the Factory Warranty.
Our team will work with you to diagnose the problem, determine the best course of action, and provide the necessary support to ensure the station is functioning as intended. By understanding the cause of the malfunction, we can continuously improve our products and services to deliver a better experience for our partners and users!
When the warranty is not applicable
Caused by accident (e.g., the station was dropped to the ground)
Misuse (e.g. placing it outside in the sun/rain)
Liquid contact (e.g., someone pours a beer)
Stolen station
Other external causes;
Luckily, intentional damages to placed Brick stations are rare. In such cases, we are here to support you by providing spare parts and guidance for repairing the hardware.
What are some situations when the warranty would be in question?
Ex: A station was dropped to the ground either by a partner or a user - not covered
Ex: A station was placed by a partner or venue staff in the sun in Lisbon at an outdoor beach restaurant and the station was damaged - not covered
Ex: A customer at a bar poured a beer into the slots of the small, 6-slot station - not covered
Ex: A customer in the bar stole the station- not covered
Ex: Factory-related issues within the first year - covered!
How often does a power bank sharing station break?
We take great care in ensuring the quality of our stations, and it is rare for faulty goods to be delivered! Throughout our years of operations and the delivery of over 5000 stations, less than 1% of stations have been reported with issues upon arrival. Out of these cases, approximately 80% can be attributed to software configurations, which can be easily resolved with a few simple clicks. Not even a handful of cases have slipped through quality control.
Become a Brick Partner
Becoming a Brick partner can get you started with €4580 as an initial investment. 20 stations will be the perfect launching pad for your network, giving you the boost you need to kickstart your network. It might be enough for you, but why not seize the opportunity to expand and grow? The possibilities are endless, and we're here to support you every step of the way!
Ready to jump right in?