Hardware
Products for powerbank sharing
What products does Brick offer? Brick offers both our users and partners intelligent hardware and software to effectively use our service. Our hardware and software products include the Brick app, powerbank, different models of stations, and the dashboard.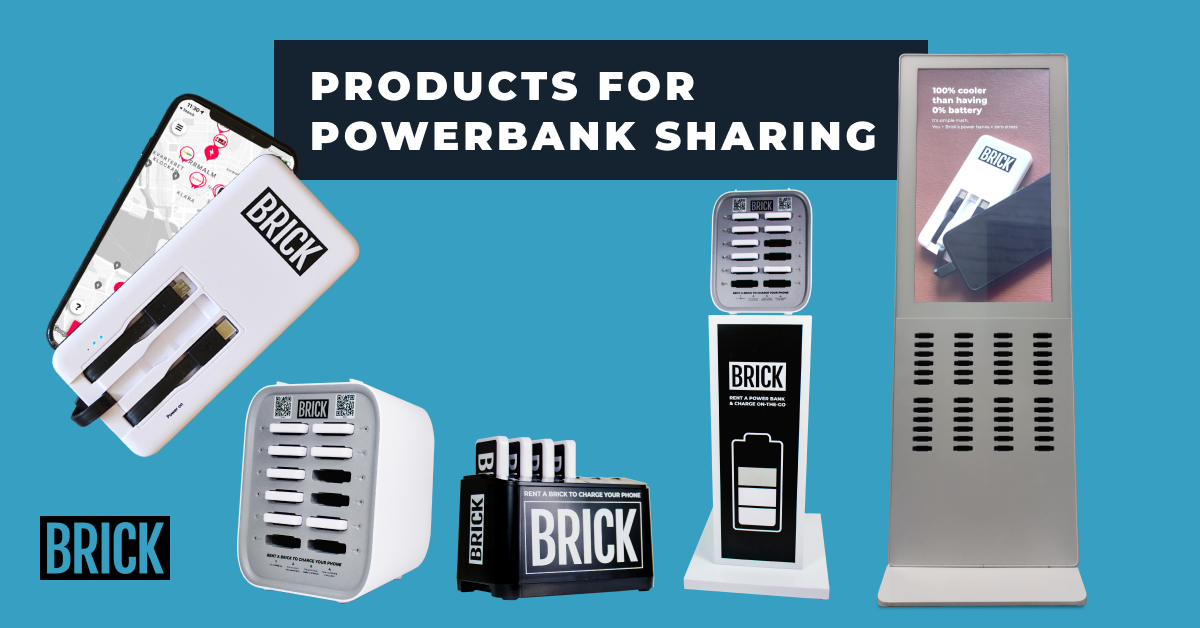 Brick's hardware and software allow anyone to be a tech entrepreneur
Brick's intelligent hardware and software allow both users and partners to get the absolute most out of our service. Our hardware and software products include the Brick app, powerbank, stations, and the dashboard.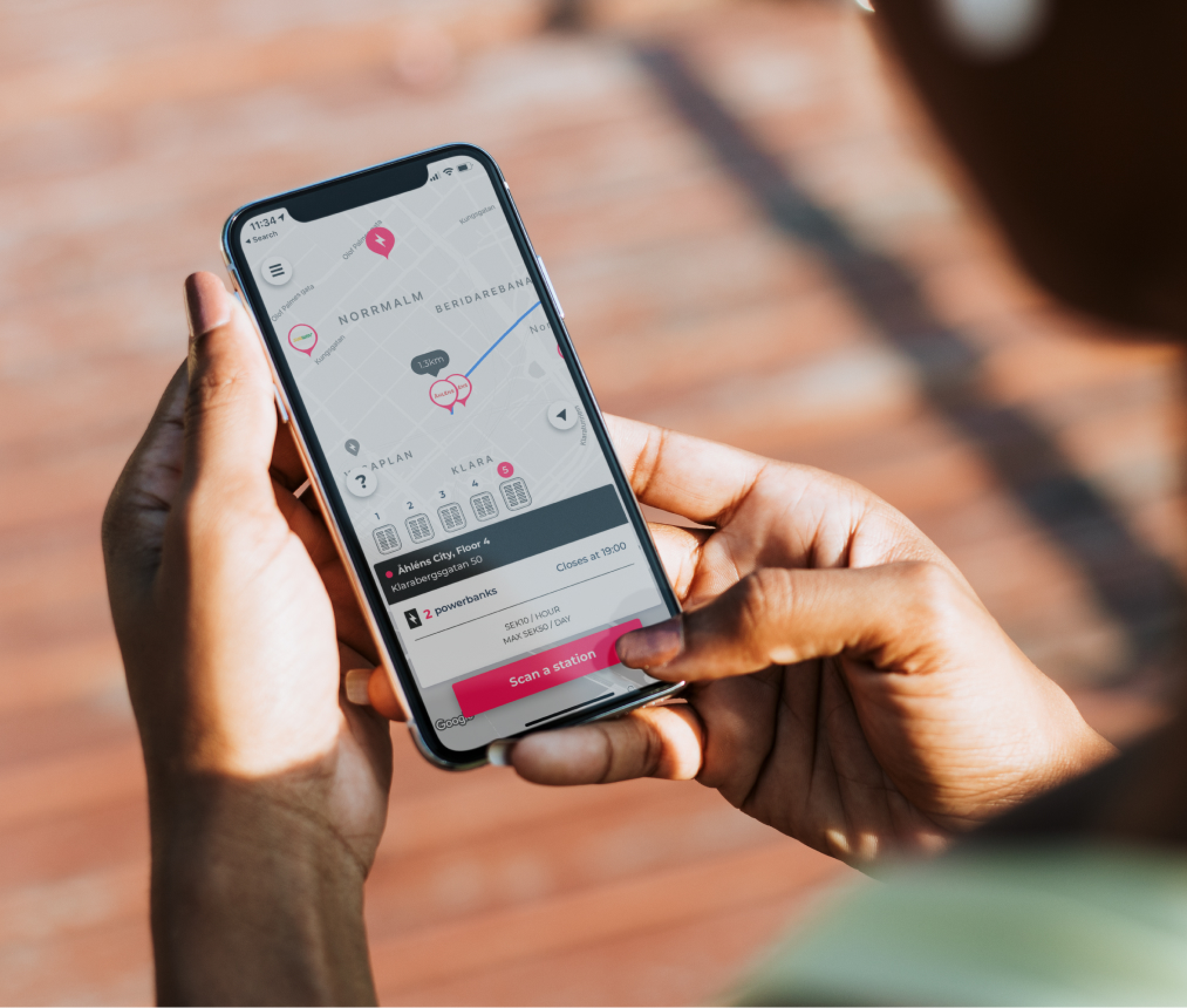 The Brick app
Start by downloading the Brick app, available for iOS and Android. If you are right by a station you can scan the QR code on the station which will direct you to download the app. Once you have downloaded the app, create an account using your phone number and upload a payment method of your choice. We accept major credit cards such as Mastercard, Visa, Apple Pay, Google Pay, and more to come (like PayPal). More payment options are added all the time.
To rent a Brick powerbank, scan the QR code located on the station. Once the terms and conditions are accepted, a powerbank will be unlocked and ejected from the station. The powerbank is equipped with three different charging cables: Micro-USB, Type-C & an iPhone Lightning cable. This means you can charge any phone and most other devices. The user is charged for the amount of time rented and can rent for up to five days. Once the user is done charging, the device can be returned to the same station, or a different station.
As a partner, revenue is processed by the station where the rental is started.
Finally, Brick HQ offers customer support in the application for users that come across any issues and need assistance. Users can contact Brick HQ in whatever language for a variety of issues and the issue will be resolved within one working business day.
The powerbank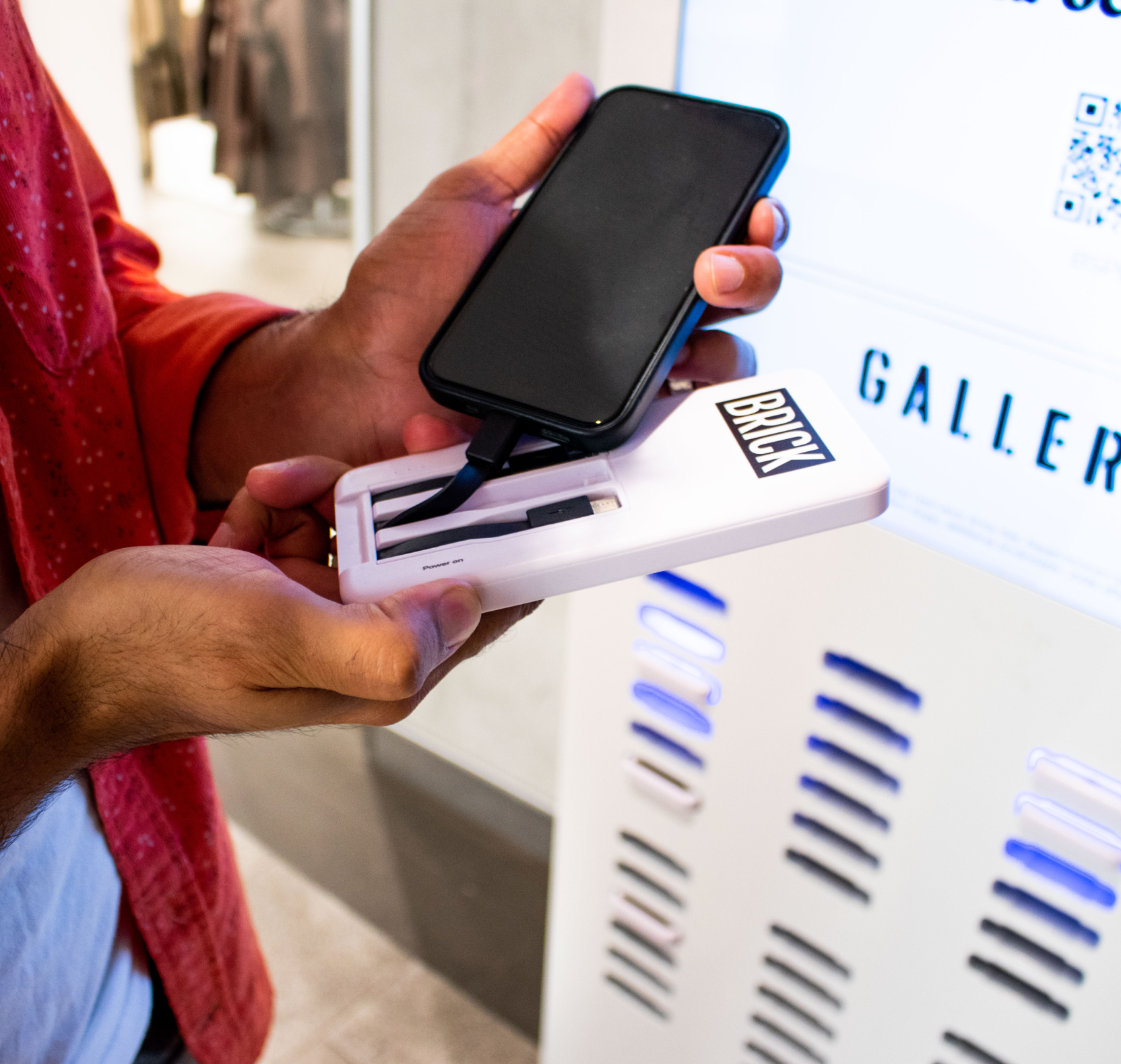 Charging would not be possible without the powerbank itself! With a capacity of 5000 mAh and a lifecycle of 500 charges, the battery can take most phones from 5% to 100% in 1 hour or less. Brick offers partners 3 different sizes of stations for different types of venues and opportunities to rent. Partners are able to determine the size of the station they want based on their investment size or the venues they are attempting to target.
Learn all about the powerbank itself and charging in general here!
The powerbank sharing stations
All Brick's powerbank sharing stations have their benefits depending on what kind of venue it is and what the needs are for that particular venue. One thing they have in common though is that they only require you to plug in the power cable and turn it on and they're ready to go! We have an article here, talking about where to place the different types of stations and why.
Small station
This station has slots for 6 powerbanks to be inserted and rented. The small is lightweight and convenient as it takes less space than a Paper A4 format. The station's dimensions are 14 x 21 x 14 cm and are best suited for Restaurants, Bars, Coffee Shops, Conference venues, and Front desks. The small station starts at €199.
Medium station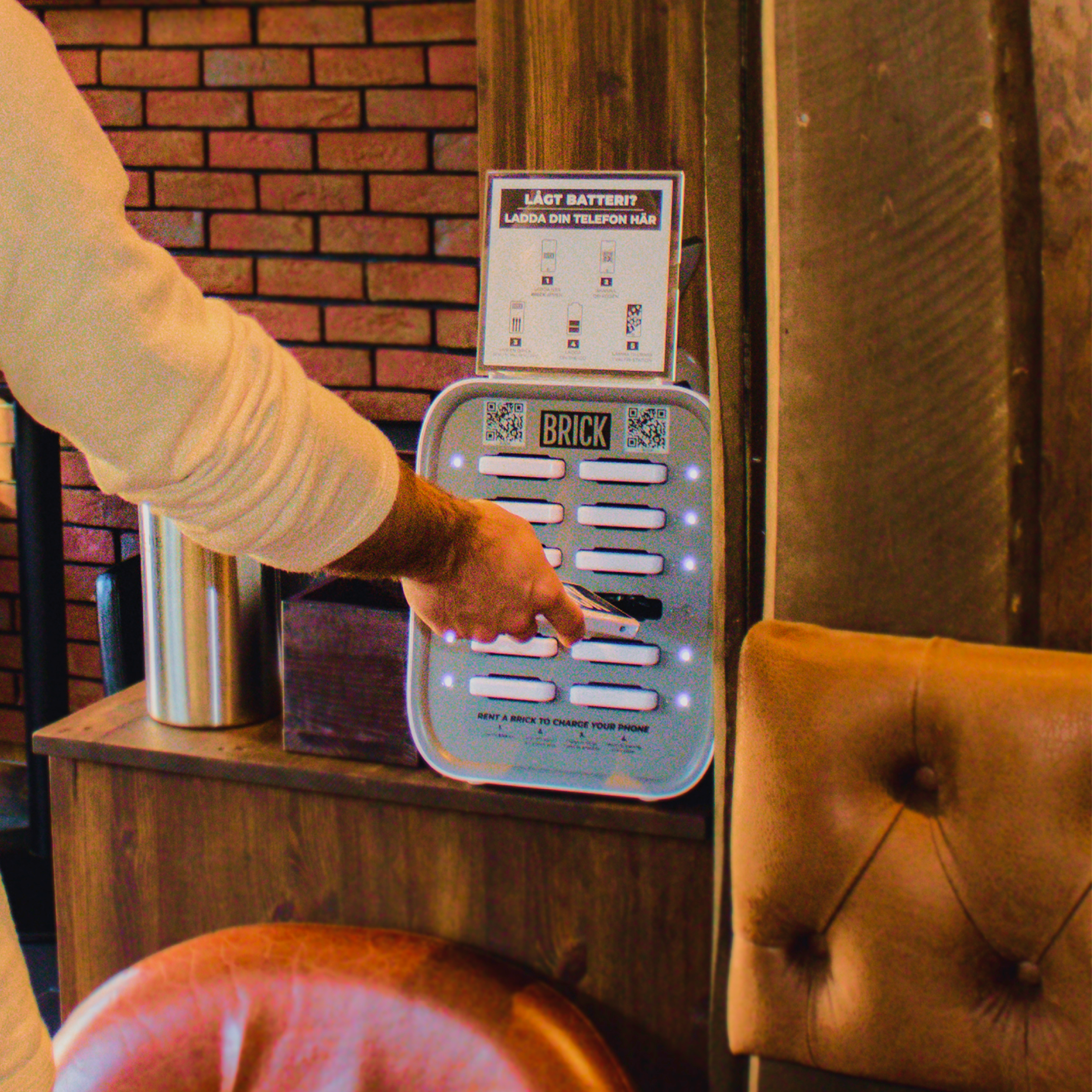 Our medium-sized station can house 12 powerbanks and gives plenty of opportunities for users to rent in a variety of venues. The station can be easily placed on any flat surface without taking up too much space, at a bar or restaurant. Slightly larger than the small station, the medium station is still easy to move around the venue to secure the perfect spot for users to access. A great addition to the venue is that can reach more people and pricing starts at €325 per station.
Large station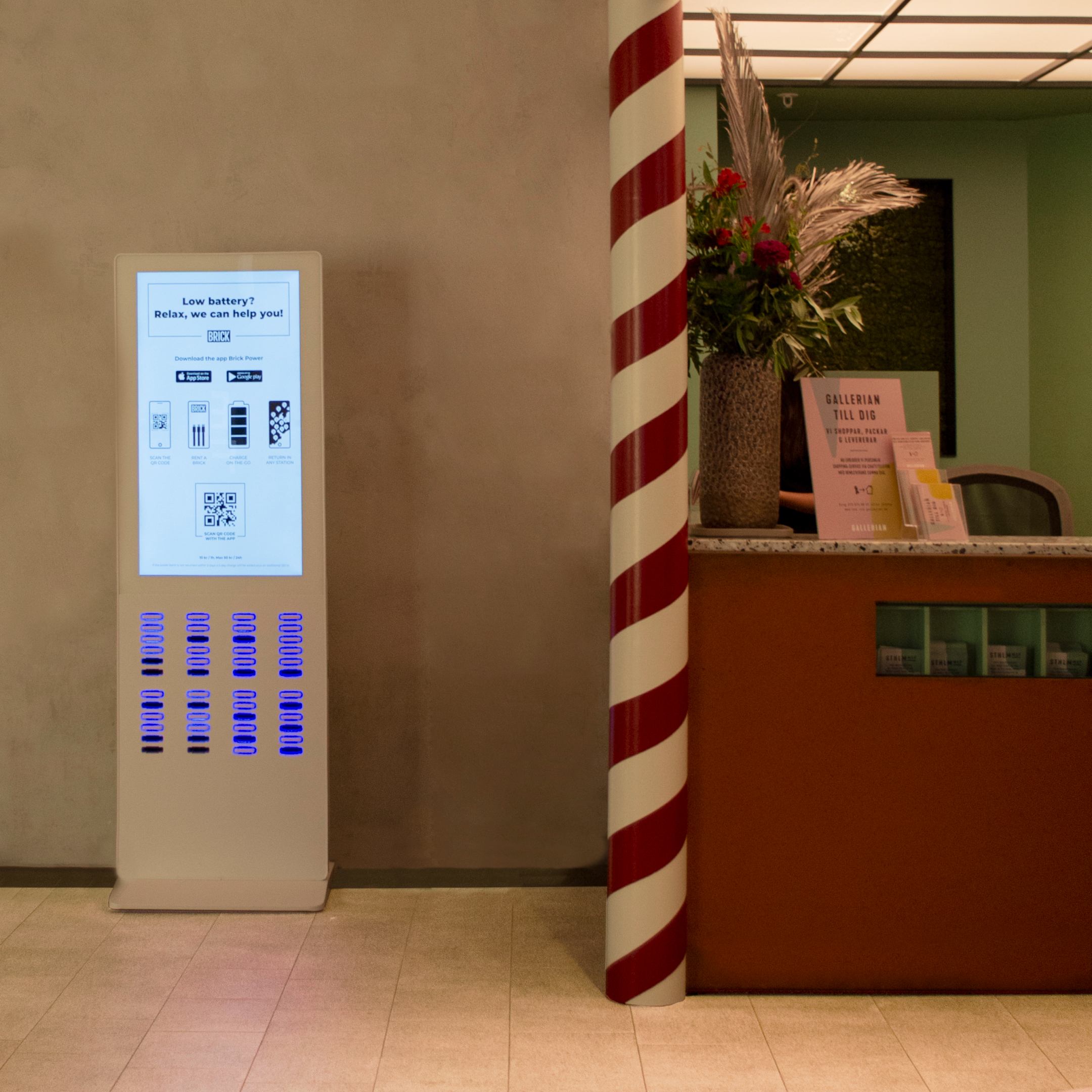 Our largest station within the Brick network, this 48-slot station can be housed in venues where there is a lot of foot traffic such as shopping malls, airports, universities, hospitals, concert arenas, and more. At almost €3,000 per station, this station comes with a LED screen that can be controlled remotely to display branded content if desired. All this station needs is a simple power outlet and requires no mounting or installation.
Click here for more technical information about the stations
Brick Dashboard
The final tool in this article and probably the most useful to a partner's business is the Brick Dashboard. Built from scratch by our development team, especially for this purpose, this admin tool gives a partner insight into their venues, stations, rentals, and revenue as well. Partners of all sizes get access to the dashboard and are onboarded to fully understand what is happening in their partnership. The dashboard's powerful tools are useful for analyzing what is going well, and what can be improved upon regarding their powerbank sharing business.
Brick HQ's marketing, commercial, and development team work collectively for our partners to offer them excellent hardware and software to grow their businesses and thrive. We provide you with the tools to get started, grow, and succeed and you get to run your business how you see fit.
Check out our website for more information, download our app to try out our product, or apply to launch in your market as well!