Hardware
Where should you place the powerbank stations?
Brick partners are able to order the size and type of station they want. Each station has its pros and cons depending on what kind of venue it is, how big it is and what the needs are for that particular venue.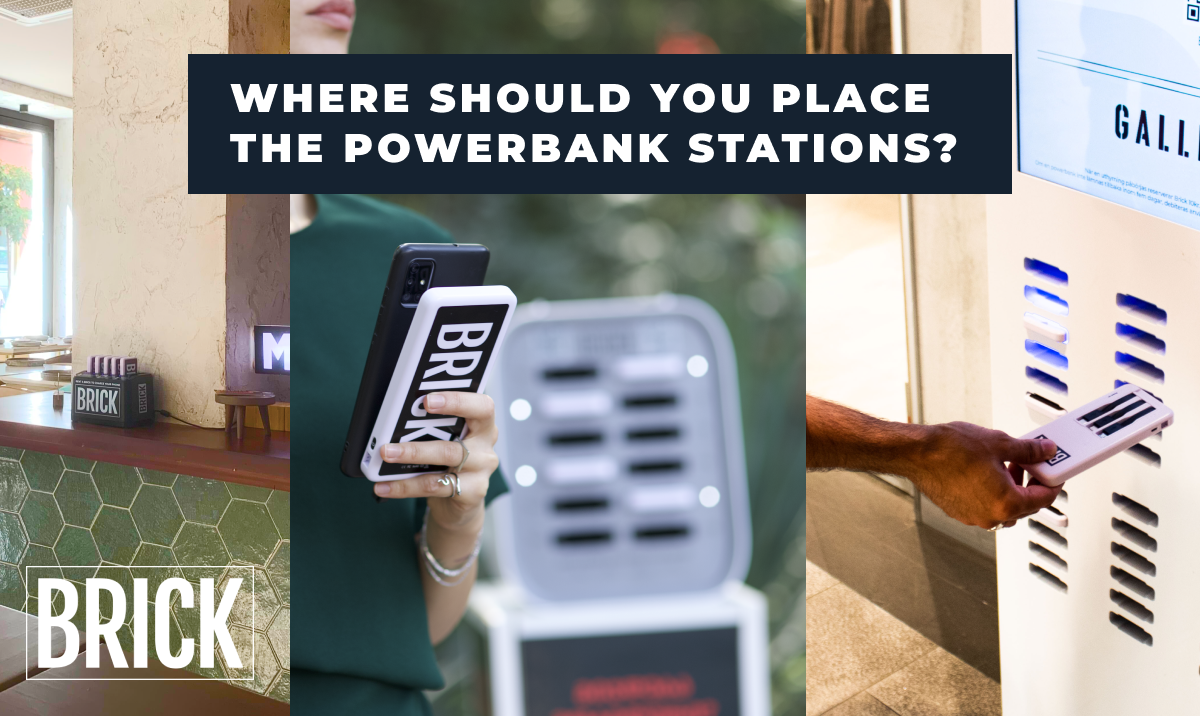 Brick offers a growing range of different powerbank stations for different types of venues, businesses, events, and reasons to rent a powerbank. At the moment there are three different types of stations that you can order through Brick. To get a full rundown of our hardware and software, check here.
Brick's powerbank stations
Brick Partners are able to order the size and type of station they want based on their investment size and the venues they are attempting to target. Each station has its pros and cons depending on what kind of venue it is, how big it is, and what the needs are for that particular venue. All stations are plug-and-play! They only require you to plug in the power cable and turn it on and they're ready to go! Find out how easy it is to rent here.
How the placement of powerbank stations impacts the revenue
For all stations, the number one tip that allows for a large number of rentals and revenue is to place the stations in a highly visible location. Examples of a highly visible spot could be on the bar, by the entrance, or any other place where customers will notice it by themselves. If the station is hard to find, it's going to be used much less, simple as that. Secondly, it's always helpful if the staff at the venue knows at least the basics of how to use the station, realizes how easy it is to use, and enjoys the service. This means that you should always properly onboard a venue and explain how to use Brick as well as letting staff rent for free. If the staff loves the service they're much more likely to refer to the station.

Find out more about what you can expect to earn as a partner here!
Small powerbank sharing station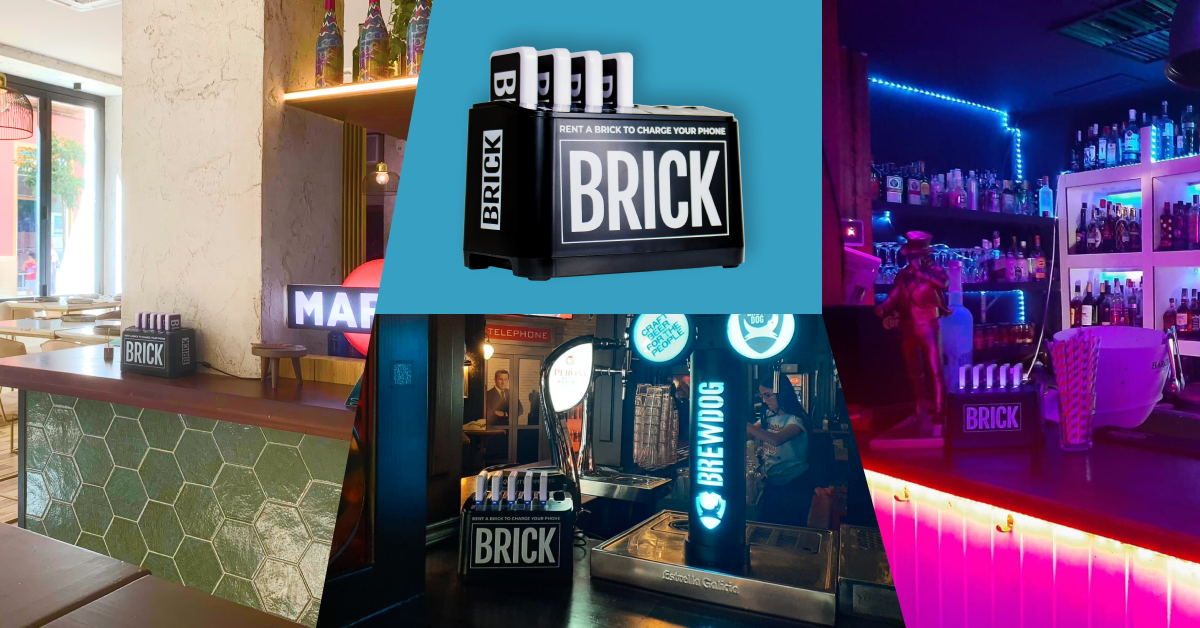 This station has 6 slots for powerbanks and takes up less space than a regular A4 paper. The size and look of this station are perfect for smaller bars, cafes, and restaurants. These places usually want a small and stylish station that can be placed at the bar or on a table to provide easy access to powerbanks for their customers. With a black finish and small lights, these stations are usable while still being discrete.
The downside of these stations can be that they only hold a maximum of 6 powerbanks and might not be enough for larger venues with a large number of customers. The small size of these stations also requires the venue to place them in a very visible place in order for customers to find them when they need a powerbank. As mentioned earlier, customers don't want the additional stress of playing hide and seek with the stations when their battery is dying. Having customers asking about where the station is also defeats the purpose of the station which is to be fully self-serving and leaves the staff to focus on their job.
For a larger venue with several bar areas, there might be a need for several small stations, one in each bar, to fully satisfy the venue's requirements.
Medium powerbank sharing station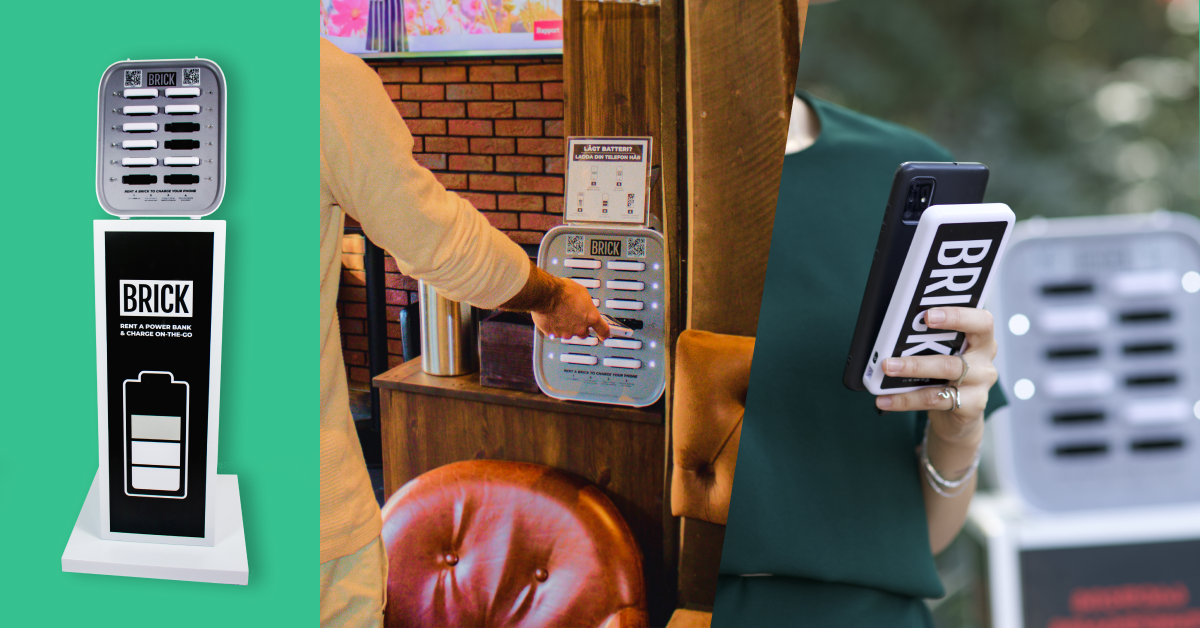 Our medium-sized station can fit up to 12 powerbanks and are slightly larger than our 6-slot station. At approximately 30 cm high it is a lot more visible than our small station. The option of adding an additional sign on top makes the station virtually unmissable. This means it's perfect for slightly larger bars, restaurants, nightclubs, and front desks among other venues. If usability, visibility, and a fully automated station are the top needs for the venue this station is perfect.
For places that are really looking for high visibility and a self-serving station, you can add an additional stand. This gives you a station that can be placed pretty much anywhere and still be very visible and has the highest level of usability for customers and staff. 9 to 12 powerbanks are also a good number of chargers to supply a larger venue and keep all customers with 100% battery.
Some venues are more sensitive about the look and size of the station. Some of them do love the look of the 12-slot medium station while others prefer the 6-slot one. While the 12-slot might be more visible and slightly easier to find and use, some prefer to have a 6-slot station on their bar or desk.
Large powerbank sharing station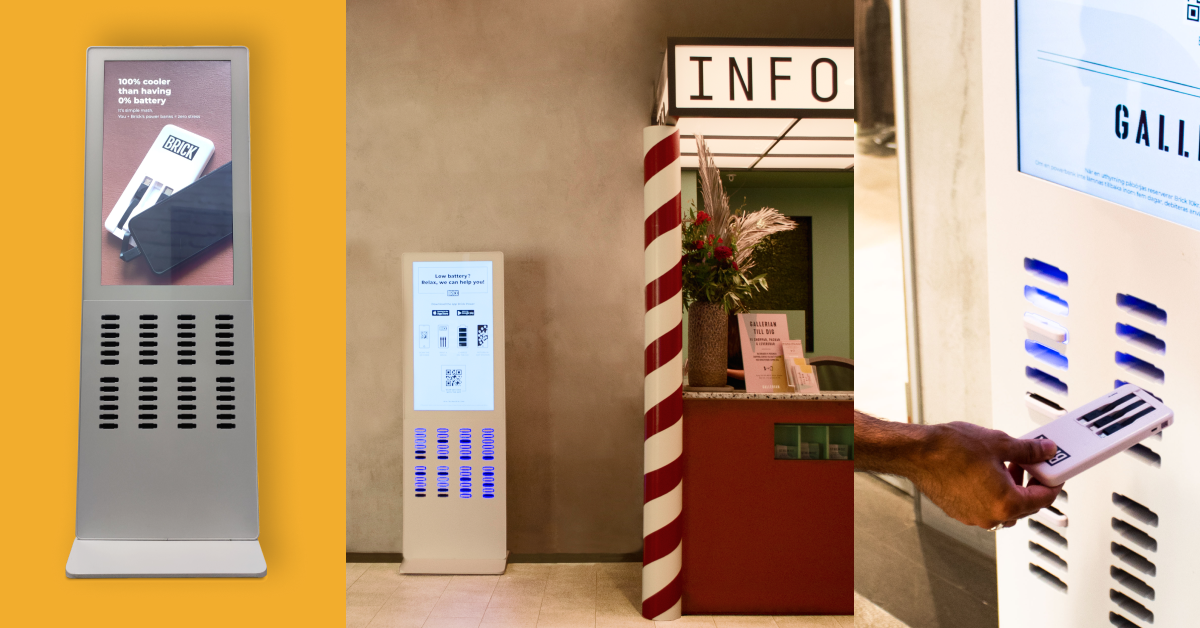 Our largest station (so far) is the 48-slot station. Good placements for this station are venues where there is a lot of foot traffic, such as shopping malls, airports, universities, hospitals, concert arenas, events, and more. This station allows you as the partner to fully control what's showing on the LED screen. The screen can display all kinds of branded content, instructions, and videos.
As you already figured out, the 48-slot station holds enough powerbanks to keep all visitors charged and ready to go on with their plans for the day. The screen makes the station truly impossible to miss and creates curiosity and awareness even if someone is not necessarily looking for a charger at this particular moment. These stations are costlier than their smaller counterparts but in return, they are sure to bring in a lot of rentals.
The cost of the Large powerbank sharing station could be a drawback. It also requires a bit more of a commitment from the venue in terms of floor space. Still, considering these facts, if you're ready to be serious about a powerbank sharing business and find the right venues for the large stations they're sure to charge plenty of phones and bring in revenue.
The number one tip for your powerbank sharing stations
Again. No matter which stations you go with (a healthy mix is usually a good choice to start with) you can't forget the number one tip: Place the stations in a highly visible location! If the station is hard to find, they won't be used, simple as that.
Do you still have questions? Check out our website, download our app to try out our product, or apply to launch in your market as well!
Or continue reading here: