Brick Hardware
Products for Powerbank Sharing
What products does Brick offer? Brick offers both our users and partners hardware and software to use our service. It includes the Brick app, powerbank stations, and our dashboard.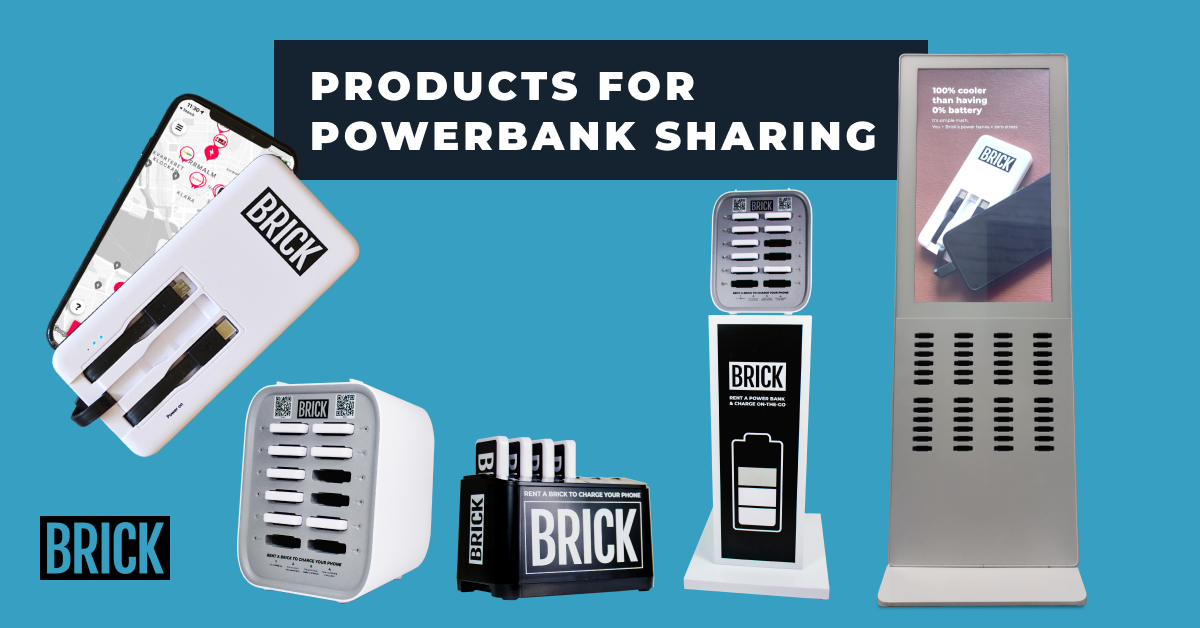 Anyone can be a tech entrepreneur with Brick
Brick offers a range of intelligent hardware and software products that enhance the user and partner experience. Our lineup includes the Brick app, powerbanks, stations, and the dashboard. With Brick, you'll have everything you need to power up your charging solution and take your business to the next level. Let's go!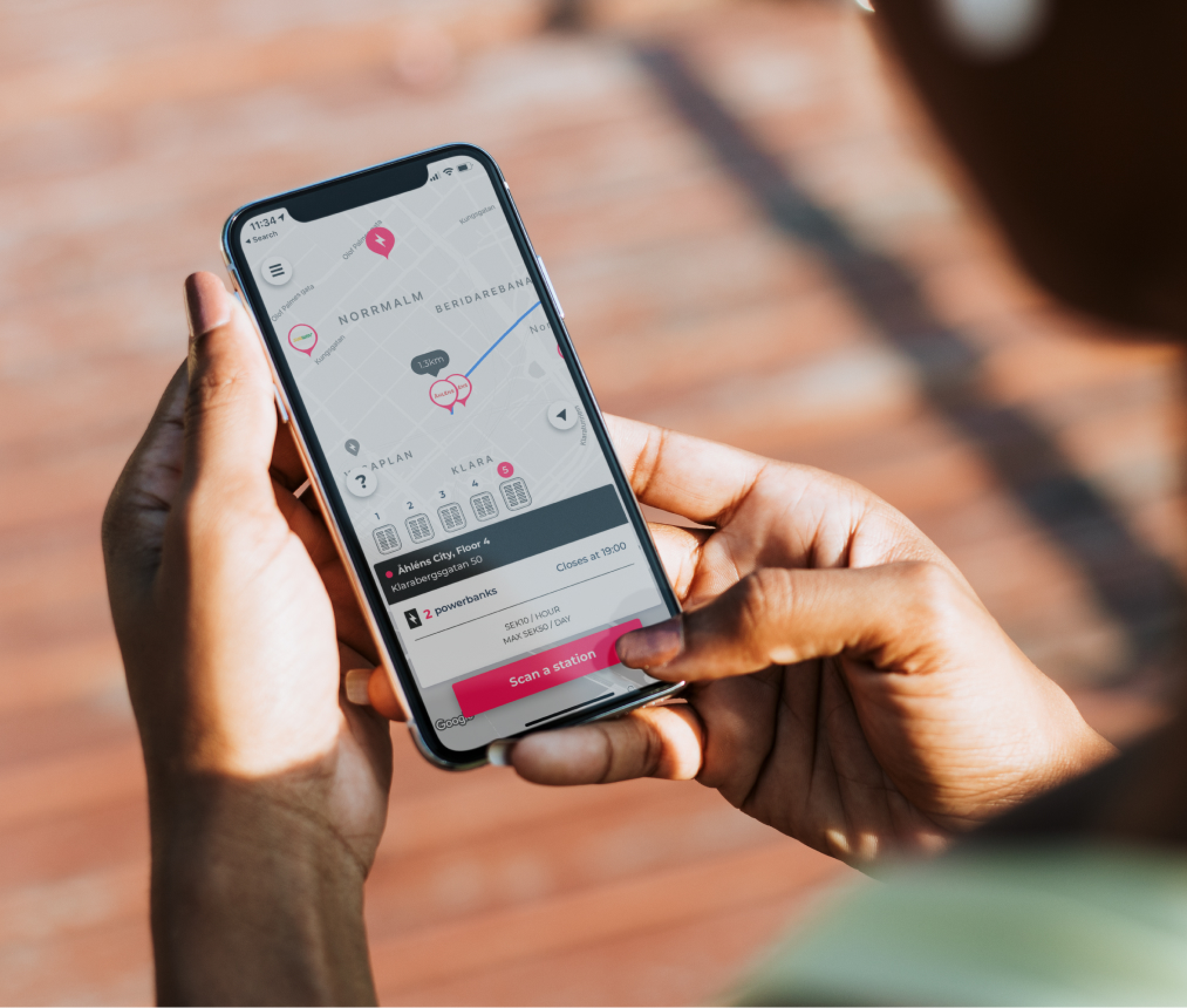 The Brick app
To get started with Brick, download the Brick app from the App Store or Google Play. If you're near a Brick station, you can scan the QR code on the station to quickly access the app. Once you've downloaded the app, create an account using your phone number and securely add a payment method of your choice, such as a credit card, Apple Pay or Google Pay.
To rent a Brick powerbank, scan the QR code on the station using the app. After accepting the terms and conditions, a powerbank will be unlocked and released from the station. The powerbank is equipped with three different charging cables, allowing you to charge various devices, including Micro-USB, Type-C, and iPhone Lightning devices. The user is charged for the duration of their rental and can rent a powerbank for up to five days. Once they're finished charging, the powerbank can be conveniently returned to the same station or any other Brick station.
As a Brick partner, revenue generated from rentals is processed by the station where the rental is initiated, ensuring a streamlined and efficient process.
For any issues or questions, Brick provides customer support through the app. Users can reach out to Brick HQ in their preferred language, and our team will promptly assist them within approximately one to wo business days.
The powerbank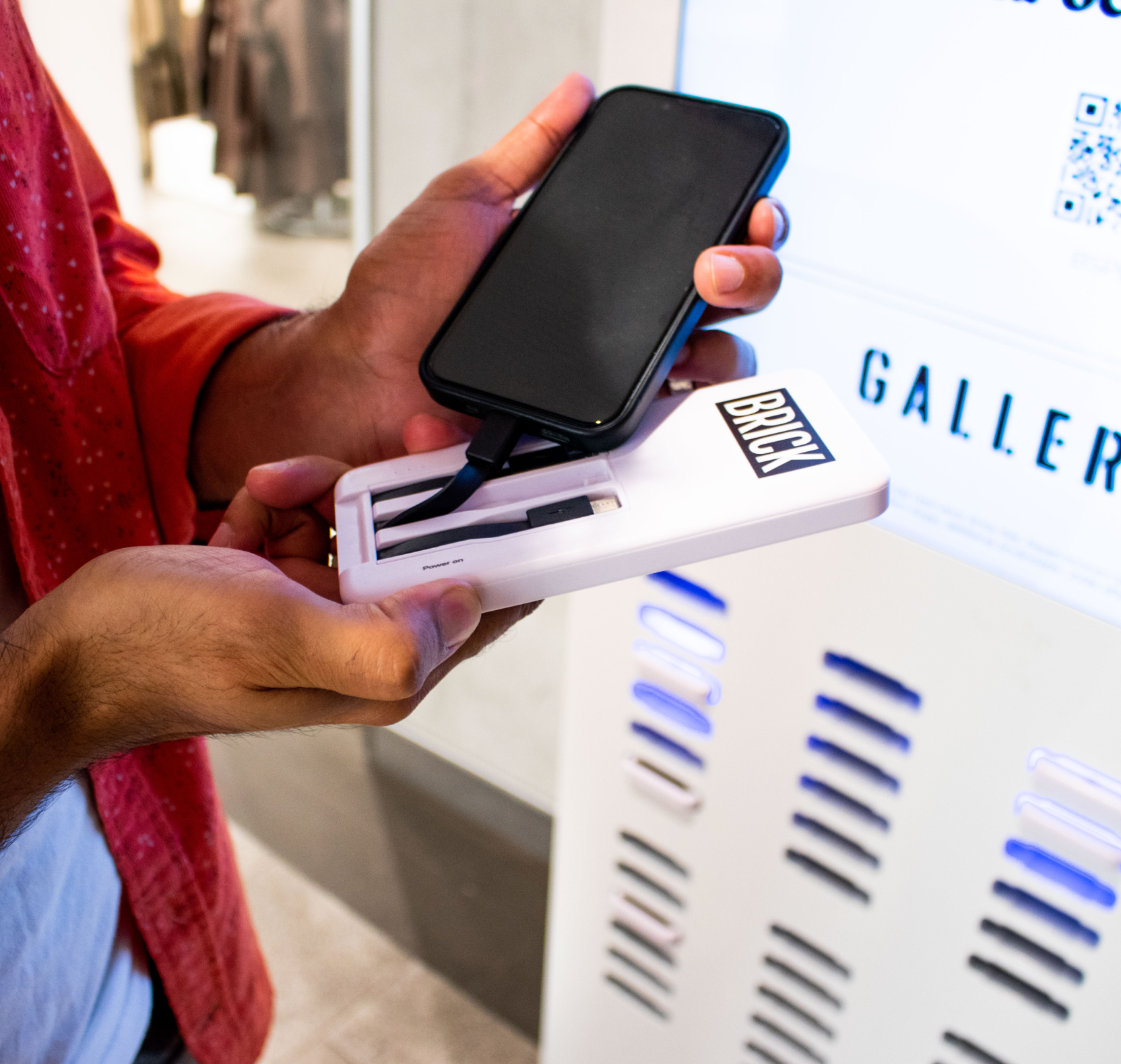 Charging would not be possible without the Brick powerbank itself! Our powerbanks have a capacity of 5000 mAh, allowing them to provide ample charging power to most smartphones. With a lifecycle of 500 charges, our powerbanks are designed to be durable and long-lasting.
The powerbank sharing stations
Brick's powerbank sharing stations are designed to cater to various venue types and their specific needs. Each station offers its own unique benefits, ensuring that partners can choose the right station based on their target venues and rental requirements.
Regardless of the station size, all Brick powerbank sharing stations are designed for easy setup and operation. Our plug-and-play stations allow partners to quickly place stations without the need for complicated installations or setup processes.
Small station
Brick's small powerbank sharing station offers a compact and convenient solution for venues such as restaurants, bars, coffee shops, conference venues, and front desks. With dimensions of 14x21x14 cm, this station takes up minimal space, making it ideal for venues with limited countertops or table space. Priced starting at €229.
Medium station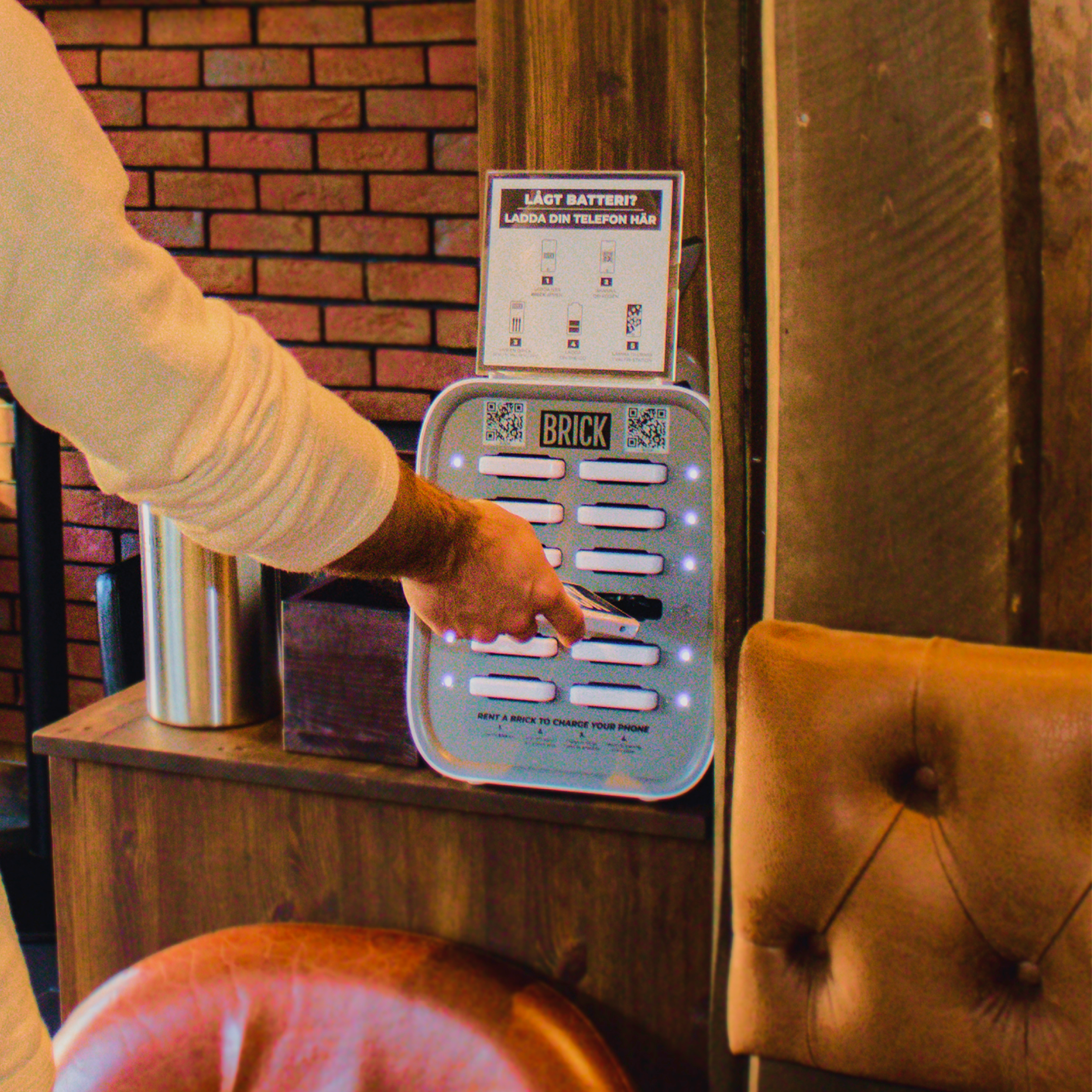 Brick's medium-sized powerbank sharing station offers a versatile and user-friendly solution for venues looking to provide charging services to their customers. With the capacity to house up to 12 powerbanks, this station caters to a larger number of users, ensuring ample availability of charging options. Measuring slightly larger than the small station, it's designed to be placed on any flat surface within a venue, making it suitable for bars, restaurants, and other similar establishments. Priced starting at €349 per station.
Large station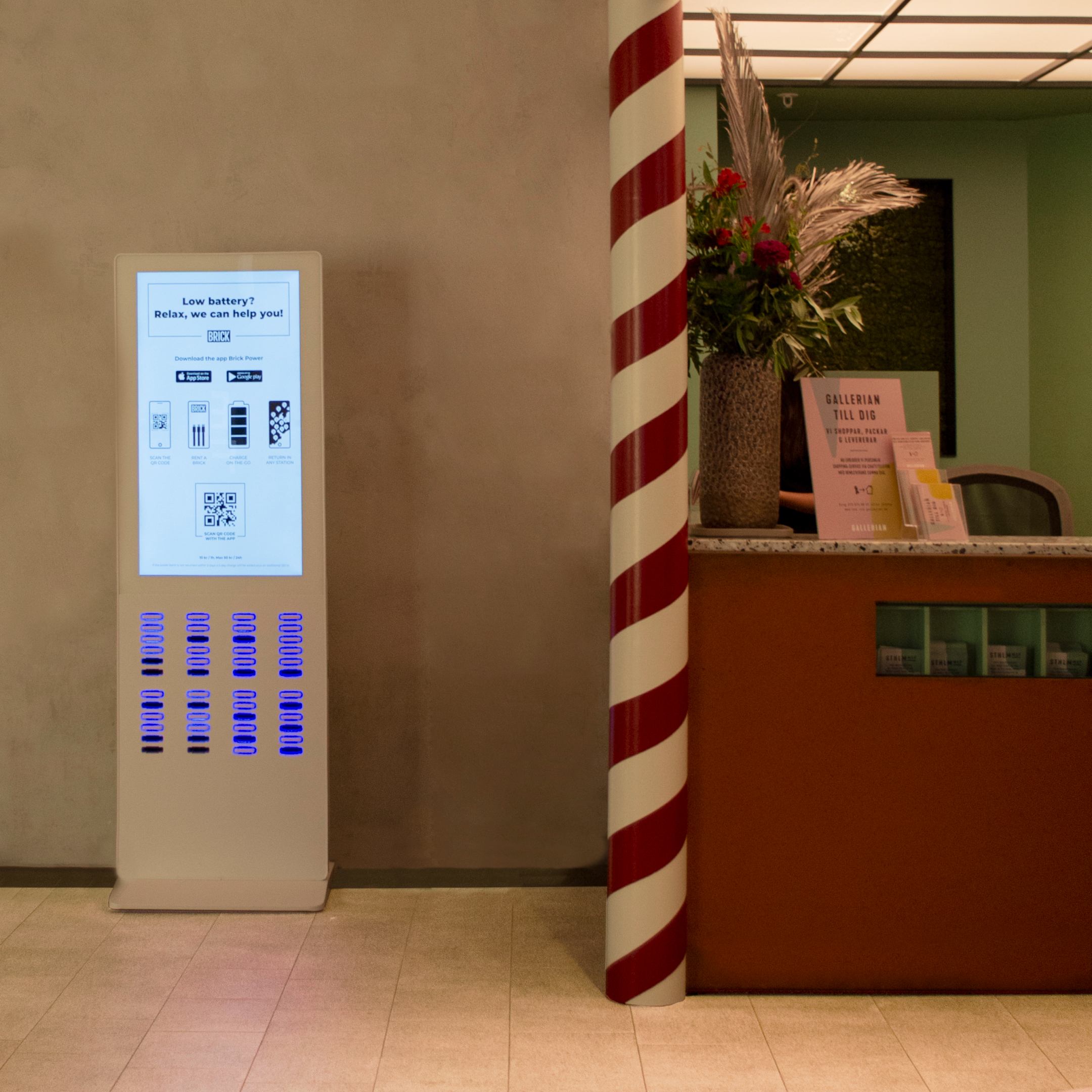 Brick's largest powerbank sharing station, the 48-slot station, offers a robust solution for high-traffic venues seeking to provide extensive charging options to their customers. With its capacity, this station can accommodate a large number of powerbank rentals simultaneously, ensuring an uninterrupted charging experience for users.
One of the standout features of the 48-slot station is its LED screen, which can be remotely controlled to display branded content or promotional material if desired. Priced at €2890 per station, the potential return on investment can be significant, considering the station's ability to cater to a large number of users and generate revenue through powerbank rentals.
Brick Dashboard
The Brick Dashboard is a vital tool for partners, providing valuable insights into their venues, stations, rentals, and revenue. Built from scratch by our Development team, this admin tool offers a comprehensive view of the partner's business.
All partners receive access to the dashboard, ensuring a complete understanding of their partnership's performance. The dashboard's features enable partners to analyze successes and identify areas for improvement in their powerbank sharing business. At Brick HQ, our marketing, commercial, and development teams collaborate to deliver outstanding hardware and software solutions, empowering partners to grow and thrive. We equip partners with the tools they need to launch, expand, and succeed while providing the freedom to run their businesses according to their vision!
Become a Brick Partner
Becoming a Brick partner can get you started with €4580 as an initial investment. 20 stations will be the perfect launching pad for your network, giving you the boost you need to kickstart your network. It might be enough for you, but why not seize the opportunity to expand and grow? The possibilities are endless, and we're here to support you every step of the way!

Ready to jump right in?