Get started
How we placed our first stations - Part 2 - The Expansion
The CEO of Brick Technology share how we started Brick in Sweden and his insights, learnings, and advice from expanding the network of powerbank stations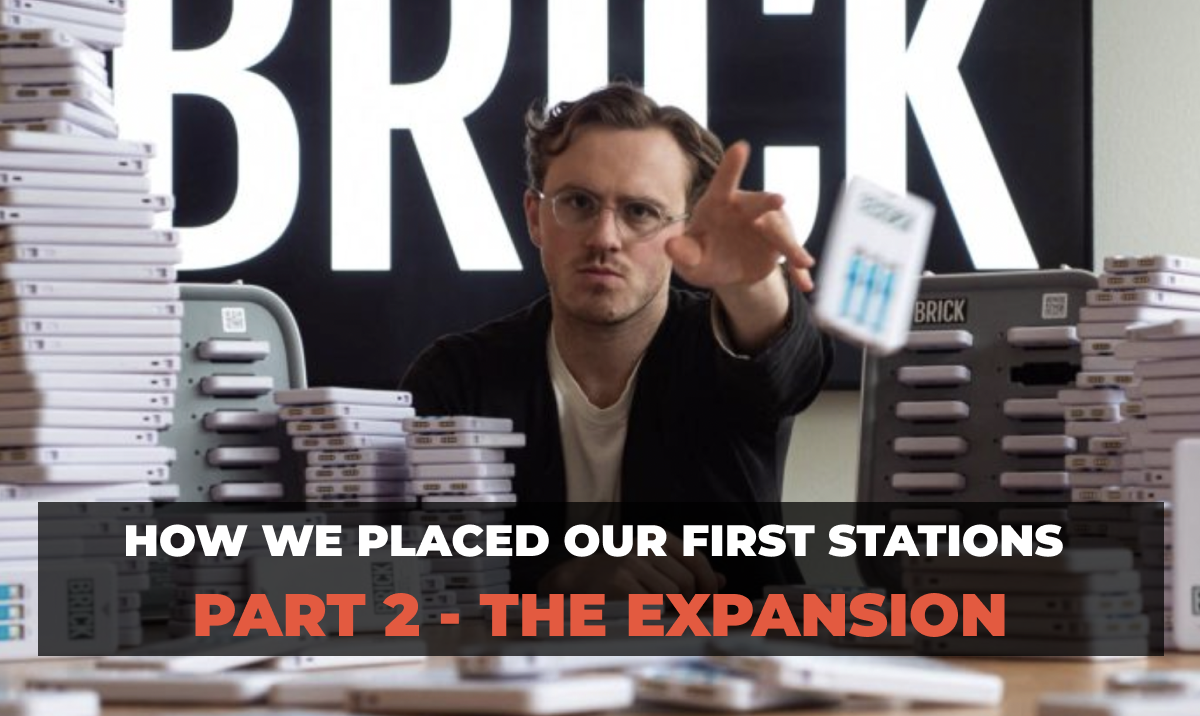 Hi! I'm Emil Esselin, CEO and founder of Brick Technology. I want to share how we started Brick in Sweden! I've previously spoken about our launch phase in part 1 of this article and will continue with the expansion phase! Read part 1 here.
We can divide Brick's journey it into two phases:
The Expansion
The Expansion Phase | January - April, 2020
In December 2019, we finally received our long awaited stations! We started with placing the stations we already sold and got to work on phase 2: expanding the network.
After launching with the selected venues, we turned our focus to expanding the network by including venues outside our original Top 100 list. When we saw a place that suited our needs, we added it. We spent most of our awake time reaching out to venues.
The usual process looked like this:
We found an interesting venue
Quick search for contact person and details online
Send an email
If we had not received a reply within 3 days, we sent a follow-up
Visited the person on LinkedIn, do we have any mutual connections/friends?
If no reply within 1 week from the first email, we called the person
From here onwards we usually continued with a few more emails
Over the coming months, we contacted around 1000 venues via email or calls. During our visits, we sealed the deal 75% of the time and in most cases the station we demo'ed was placed right away.
How did the sales process change after receiving the stations?
In the Launch Phase we limited ourselves to the following sales activities:
Cold emailing
Cold calling
Contacts
LinkedIn outreach
Unscheduled venue visits
Read more about this in Part 1.
Now as we had the product, something we actually could show, we extended our outreach and put efforts into other activities as well:
Outbound:
Paid Media (Social Media and Google Ads)
Inbound:
Owned Channels (Social Media)
Referral Platforms / Marketplaces
Inbound / Direct Request
Events
PR
The results of these varied. To say the least!
Results from venue outreach channels and campaigns
Paid Media (Social Media and Google Ads)
We found that venue owners that found our website and requested a station via Ads was extremely low at this point in time. This channel turned out to be more useful when we had a larger network and the market matured.
Referral Platforms / Marketplaces
We launched an offering on a platform for restaurants, ran by Sweden's largest restaurant supplier, with over 10.000 connected restaurants. We had high hopes, but only received 3 requests during this time. Same here as with the point above, the requests increased with increased awareness.
Owned Channels (Social Media) & Inbound / Direct Request
We had extremely high hopes for inbound sales via Social Media or by inbound via website requests for stations. But during our first 5 months, only 2 stations were requested.. The sad reality was that Brick and the powerbank sharing concept weren't well known enough.
Events
We had stations at a few different events. It's great for a number of reasons; it's great for usage, awareness and showing the product to a large crowd. And if you're lucky it can lead to free tickets to fun events!
PR
We also managed to get ourselves in some smaller newspapers and interviews. Doing this led to slightly more venue contacts than Social Media and Direct Requests.
Channels that actually worked
Word of mouth
Here's where your hard work of emails and visits really can bring in some free placements. If you do your job and give people a great impression of Brick, word will spread. We realized that a lot of bartenders and restaurant managers know each other. One great placement and onboarding can lead to several new contacts and placed stations!
Placed stations
The by far best marketer and pitch point you can ever get is a placed station. A station generates rentals, new users and more station requests. When we received email requests, the message almost always started with "Hi! I saw your station in…". You won't get a better billboard for your network than a perfectly placed station in a popular venue.
Building trust with venues is important
Another important point is building trust. Nobody wants to look like a fool. As you know, powerbank sharing was unheard of by 95% of those we contacted. So we asked our existing venue partners if we could use them as references and took testimonials about how our service helped their business. These were then mentioned when contacting leads to build additional trust.
Installation, Onboarding and Follow-ups
Installation
We learned the hard way that delivering stations and getting them installed is easy to overlook. On multiple occasions, when we launched outside of Stockholm, we delivered stations and hoped that they would simply understand how to install them. If you cannot deliver and install the station yourself, make sure to schedule a call to help them get started.
Onboarding of staff
It's very important! Placing the station is the first half of the job, onboarding is the second half.
Follow-ups and removal of stations
As we started, we generally accepted that some stations weren't used. Instead, we saw it as a strength that the network expanded and that users could rent and return at more locations. In retrospect, we should have tried harder in understanding what wasn't working at these venues and remove stations that obviously weren't generating rentals.
The bottom line – 5 important learnings
A placed station is your best friend and by far the best marketing tool. It generates more requests compared to Social Media, Search Ads and PR.
Use different strategies and sales points for different venue types, but focus on getting to the decision-maker.
Venue visits have the highest conversion rate. Get out there!
Never ever overlook or skip the installation and onboarding. Never.
Build trust, contacts and great connections! It's the foundation of a successful network!
Interested in launching yourself? Check out our website, download our app or apply to become a network partner