Brick Partnerships
How We Placed Our First Stations - Part 2: The Expansion
The founder and CEO of Brick Technology shares how we started Brick in Sweden and his insights, learnings, and advice from launching an almost unknown product in a new market.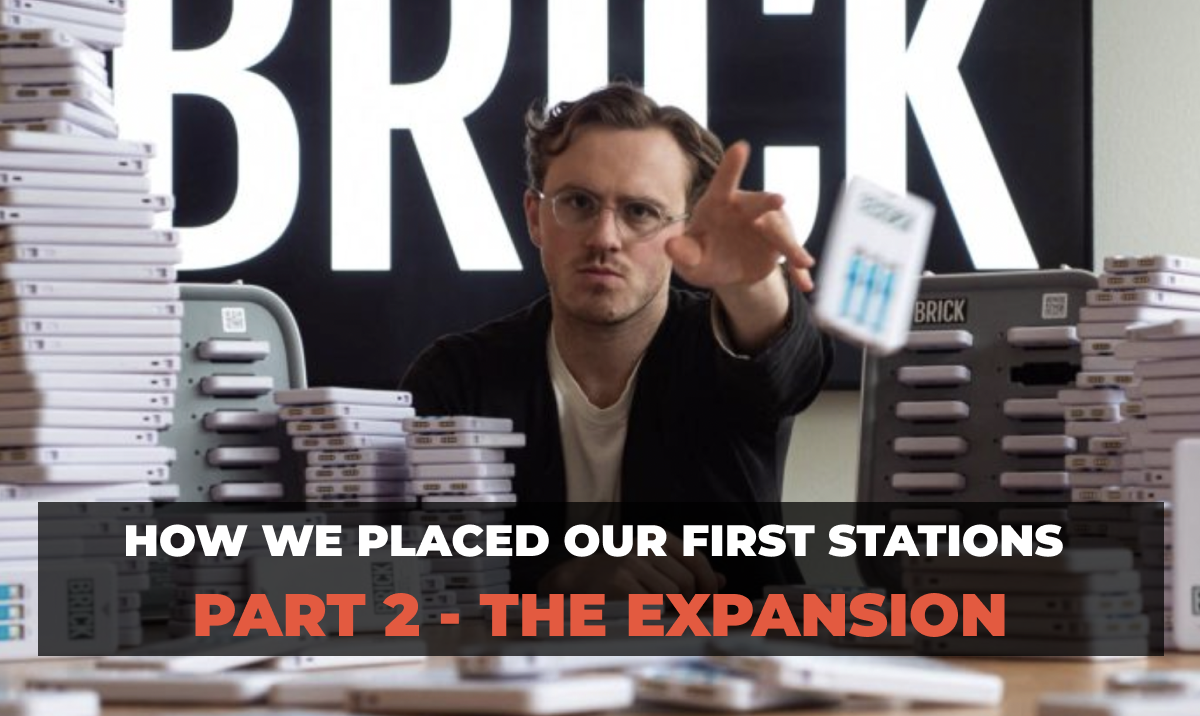 Hi! I'm Emil Esselin, the founder and CEO of Brick Technology. I'm excited to share the story of how we initiated Brick in Sweden. In the previous part of this article, I discussed the launch phase, and now I'll take you through the next phase of our journey: expansion! If you haven't already, I encourage you to read part 1 to get a comprehensive understanding of Brick's beginnings.
We divide Brick's journey into two phases
The Expansion
The Expansion Phase | January - April 2020
In December 2019, our long-awaited stations finally arrived! We wasted no time and immediately began placing the stations we had already sold. This marked the beginning of phase 2 of our journey: expanding the network.
With our initial set of selected venues successfully launched, our attention shifted towards broadening the network by including venues beyond our original Top 100 list. Whenever we came across a location that seemed suitable for Brick, we wasted no time in adding it to our network! We dedicated most of our waking hours to reaching out to potential venues and forging new partnerships.
The usual process looked like this:
We found an interesting venue
A quick search for contact person and details online
Send an email
If we did not receive a reply within 3 days, we sent a follow-up
Checked LinkedIn profile for mutual connections/friends.
If no response was received within one week, a follow-up call was made.
From here onwards, we usually continued with a few more emails
Over the next few months, we reached out to approximately 1000 venues through emails and calls. We successfully closed deals with 75% of them, and in most cases, the demonstrated station was placed immediately.
How did the sales process change after receiving the stations?
In the launch phase, we limited ourselves to the following sales activities:
Cold emailing
Cold calling
Contacts
LinkedIn outreach
Unscheduled venue visits
Now that we had our product ready to showcase, we expanded our outreach efforts and engaged in various activities to promote our offering.
Outbound:
Paid Media (Social Media and Google Ads)
Inbound:
Owned Channels (Social Media)
Referral Platforms / Marketplaces
Inbound / Direct Request
Events
PR
Results from venue outreach channels and campaigns
The results of these efforts varied greatly, to say the least!
Paid Media (Social Media and Google Ads)
We discovered that venue owners who found our website and requested a station via Ads were extremely low at this point in time. This channel proved to be more effective when we had a larger network and the market had matured.
Referral Platforms / Marketplaces
We introduced an offering on a platform for restaurants, operated by Sweden's largest restaurant supplier, which had over 10,000 connected restaurants. Although we had high expectations, we only received 3 requests during this period. Similarly to the previous point, the number of requests increased as awareness grew.
Owned Channels (Social Media) & Inbound / Direct Request
We had high expectations for inbound sales through social media and website requests for stations. However, during our initial 5 months, we only received 2 station requests. The unfortunate reality was that Brick and the concept of powerbank sharing were not yet well-known enough.
Events
We placed our stations at various events, which proved to be beneficial in several ways. It increased usage, raised awareness about our product, and provided an opportunity to showcase it to a large audience. As an added bonus, if we were fortunate, it sometimes led to receiving free tickets to exciting events!
PR
We successfully secured coverage in smaller newspapers and interviews, which had a positive impact on our business. These media appearances generated slightly more venue contacts compared to our efforts on social media and direct requests.
Channels that actually worked

Word of mouth
Your hard work and positive interactions with venues can create a ripple effect in the industry. We discovered that many bartenders and restaurant managers have strong connections within their industry. Therefore, securing one great placement and successfully onboarding a venue can potentially lead to multiple new contacts and subsequent placements!
Placed stations
A well-placed station is the ultimate marketing magic! It generates rentals, attracts new users, and sparks station requests like no other. When people reach out to us via email, they often start with, "Hi! I saw your station in..." It's like having the coolest billboard in town right where it counts. There's no better way than with a perfectly positioned Brick station in a popular venue. It's the ultimate magnet for success!
Building trust with venues is important
Building trust is crucial, especially when introducing a new concept like powerbank sharing. With the majority of our contacts being unfamiliar with this concept, we understood the importance of establishing credibility and reliability. To achieve this, we reached out to our existing venue partners and asked for their permission to use them as references. We highlighted how our service had positively impacted their business. When contacting new leads, we strategically mentioned these testimonials. We were able to build a solid foundation of trust with potential partners, making it easier for them to embrace our innovative solution.
Installation, Onboarding, and Follow-ups

Installation
We learned the hard way that the process of delivering and installing stations should not be overlooked. In the past, during our expansions outside of Stockholm, we made the mistake of assuming that the venues would instinctively know how to install the stations. We quickly realized that this assumption was flawed.
To ensure a smooth installation process, it is essential to provide clear instructions and support. If you are unable to personally deliver and install the stations, it is crucial to schedule a call with the venue to guide them through the process and address any questions or concerns they may have. By proactively assisting them in getting started, you can avoid unnecessary complications and ensure a successful deployment of the stations.
Onboarding of staff
We can't stress it enough, it is so important! While placing the station is only the first half of the job. The second half involves effectively onboarding the staff at the venue.
Follow-ups and removal of stations
Initially, we had a mindset that having more stations in the network, even if some were underutilized, would be beneficial for expanding our reach and giving users more options. However, looking back, we realize the importance of evaluating the performance of each station and understanding why certain venues were not generating rentals.
In hindsight, it would have been more effective to identify and address any issues at these venues and, if necessary, remove stations that were consistently underperforming. This approach would have allowed us to optimize the network and focus our resources on venues that were generating higher rental rates, ultimately improving the overall success of the Brick powerbank sharing service.
5 important learnings
A well-placed station is an immensely valuable asset and an effective marketing tool that can generate more station requests compared to other marketing channels
Utilize various strategies and sales points tailored to different venue types, the key focus should always be on reaching the decision-maker.
Venue visits have consistently shown the highest conversion rate, so it's crucial to invest time and effort in visiting venues in person. This personal touch can make a significant impact on building relationships and securing partnerships. Get out there!
Never underestimate the importance of installation and onboarding. It is a critical step that should never be overlooked or skipped. Proper installation and thorough onboarding ensure that the station operates smoothly and users have a positive experience, leading to long-term success.
Building trust, establishing valuable contacts, and fostering strong connections are essential foundations for a thriving network. Cultivating these relationships contributes to the overall success of your business.
Become a Brick Partner
Powerbank sharing with Brick holds promising prospects for your success! A Brick representative is ready to connect with you when you are. You can continue reading the essentials of a Brick partnership or get in touch.
Read part 1 - the launch!