Get started
How we placed our first stations - Part 1 - The Launch
The CEO of Brick Technology share how we started Brick in Sweden and his insights, learnings, and advice from launching an almost unknown product in a new market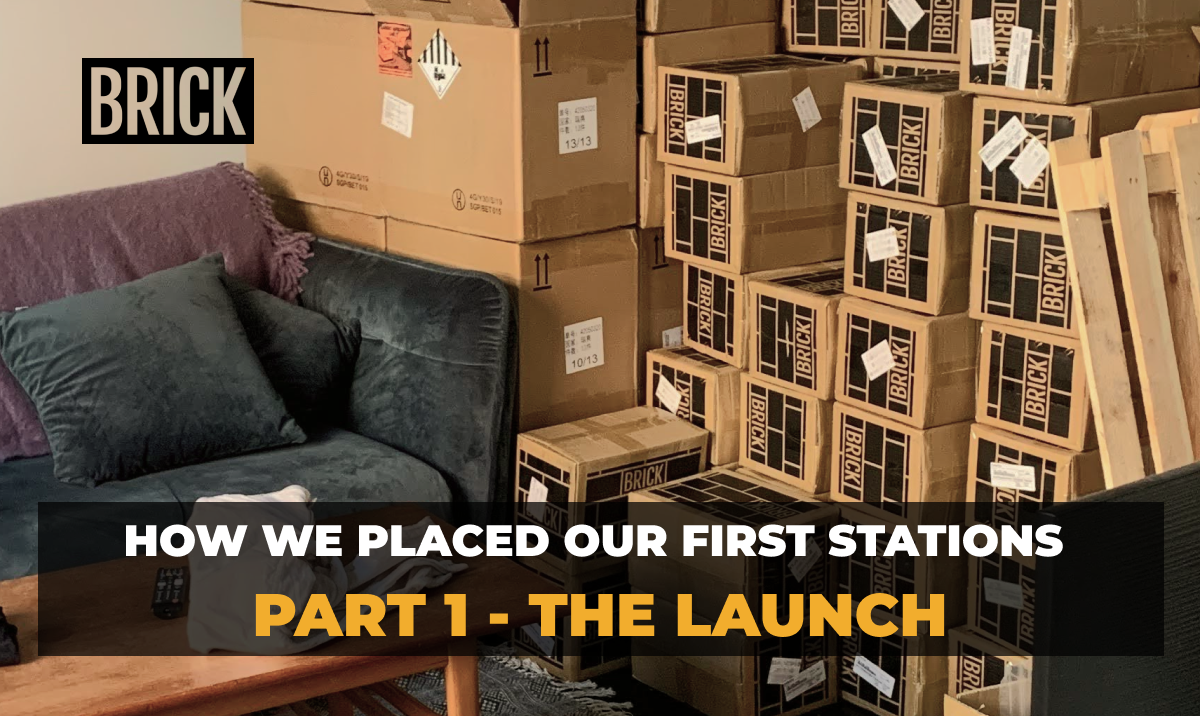 Hi! I'm Emil Esselin, CEO and founder of Brick Technology. I want to share how we started Brick in Sweden! I'm hoping to give you some insights into our venue strategy, what sales channels we used, their respective success rate, and our learnings from reaching out to venues. But most importantly, how we placed our first stations and some advice to help you on your way!
We can divide Brick's journey into two phases:
The Launch Phase
The Launch Phase | August - December 2019
Back in 2019, powerbank sharing was an unknown concept. Almost no one knew what it was and how it worked. We barely knew ourselves. Our first stations were set to arrive in December the same year, so in August we decided it was about time to start signing some venues.
Our plan was to sign these venues as quickly as possible so we could launch Brick with them online when we received the stations. We hoped for a few high-profile venues or chains to really give us a great start!
Selecting our first venues
We started by sitting down and brainstorming. We spent a few hours selecting the Top 100 venues we wanted as our launch partners. Our list included chains such as Starbucks, Sheraton Hotels, Hard Rock Café and Subway; mixed with local nightclubs, bars and cafés which we knew were popular. New targets were added to our list as soon as we discovered them. This was an easy step, but easy to overcomplicate. Don't do that. Simply think about what might be a good venue and add it to the list. Having a list of venues and keeping track was hugely important in our progress.
Selling without a powerbank sharing station
At this stage, we didn't have a functioning product to show yet. No station, no powerbank, not even an app to demonstrate how it could work. For the people we were planning to reach out to, the concept would be completely new…
So what did we pitch?
Our pitch during the Launch Phase focused on the following:
They had been selected as a key venue for our roll-out
How many others that already had shown interest
The fourth point was key! People can be scared to test new concepts and only a few brave ones will dare to be first. My advice: be careful when pitching something as "first or new", they might be a bit scared of testing new concepts, only a brave few dare to be first. So be a bit careful when pitching something as "first/new".
The value for the venue
We only had the Medium 12 slot station (coming in soon) and were limited in product offering. We therefore focused on tailoring our value proposition to their needs:
Bars, Restaurants, Cafés and Nightclubs
It's Free for the venue
Increased customer satisfaction, they can continue using their phone
Relieve staff from having to charge and be responsible for guests phones
People are not stuck to a wall with a cord when charging
Extra exposure as the venue will be visible in the Brick app
Hotels
Increased customer satisfaction
Modern solution
It's Free for the venue
Extra exposure as the venue will be visible in the Brick app
Shopping Malls and fast food chains
Increased footfall
Higher spend, since customers might leave if they run out of battery
Modern solution
It's Free for the venue
Yepp, "It's Free" was the absolute most important selling point to any kind of venue! The venue doesn't have to pay a single penny to have a station. Brick offers a useful service and the goal is to help the venues realise how Brick can help their business, staff and customers.
Find the decision-maker
The next step can be a bit trickier: to find the decision-maker. The person who decides if a Brick station can be placed in their venue.
At some venues it's fairly easy. At your local pub, it's the bar manager or owner. They will most likely work at the venue, or the staff will know how to get in touch with this person. Getting a personal connection here is very doable.
It might not be as clear with other venues. Let's take an international hotel chain as an example. The decision-making for launching a value-added service, such as powerbank sharing, isn't as transparent and straightforward. The independent franchisee could have a mandate to launch services, or they will have to contact HQ with a request. Sometimes they are not even sure themselves how to proceed. These venues might take longer to place a station, but with persistence you'll get there!
How to reach out to venues
The goal of our outreach was to get a quick pitch meeting or schedule a visit where we could later demo the product. I'm writing more about different ways of reaching out, contacting venues, and what I think works best in part 2.
What sales channels did we use?
Cold emailing
Emailing was our go-to way. You can reach a lot of people doing this. Just be aware that response rate can be low and you will probably need to send several follow-up emails. But we got some responses that led to calls and meetings.
Cold calling
Calls were usually our second point of contact. After sending an email or two and not getting a response, it's worth it to try a phone call. The response rate and conversion rate is higher with calls. A trick to make sure the decision-maker is in when you visit a bar, is to call ahead and check: "Is the manager in? No? When is he coming in? Okay, thank you!". The placement will go quicker if the decision maker is on site when you visit.
Unscheduled venue visits
Preferably, you want to schedule the visit. But, we found it extremely efficient to walk along a bar street and pop into venues we thought would be good for us. One person can easily visit 30 bars in 6 hours. Make sure to properly schedule station delivery, installation and a proper onboarding for another day to make sure the venue is locked in.
Contacts
We talked a lot about Brick. Everyone knows someone who knows someone that can help you build your network and give you a shortcut to a decision-maker. Maybe your friend works in a bar? Or your distant cousin knows the Head of Operations at a fast food chain? Let people know what you are up to and you'll be surprised how many people are willing and able to help you out!
LinkedIn/Social media outreach
Visited the person on LinkedIn or other social media. Do we have any mutual connections or friends? Reach out!
Conversion rate ranking
Visit
Call
Email
In hindsight, visiting venues have, by far, the highest conversion rate. So get out there! We were bad at this. Very bad. We would have placed many more stations if we had just visited more venues.
The Result of the Launch Phase
The same day that we received our delivery we rushed to place our first 40 stations at 30 venue partners!

Interested in launching yourself? Check out our website, download our app or apply to become a network partner