Brick Partnerships
How We Placed Our First Stations - Part 1: The Launch
The founder and CEO of Brick Technology shares how we started Brick in Sweden and his insights, learnings, and advice from launching an almost unknown product in a new market.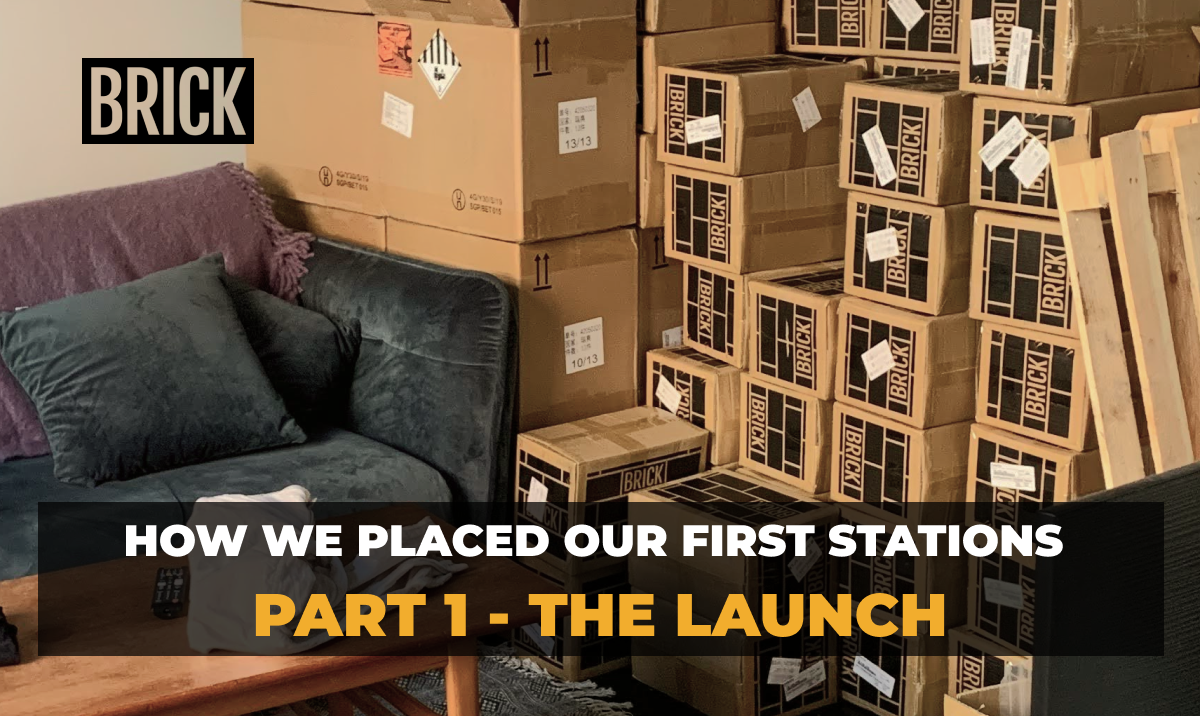 Hi! I'm Emil Esselin, founder and CEO of Brick Technology. I'm excited to share the story of how we initiated Brick in Sweden. I'm excited to share our venue strategy, sales channels, and valuable insights with you. We'll dive into how we placed our first stations and provide helpful advice to support you on your own path. Let's get started!
We divide Brick's journey into two phases
The Launch Phase
The Launch Phase | August - December 2019
Back in 2019, powerbank sharing was a relatively unknown concept, even to us. With our first stations scheduled to arrive in December of that year, we realized it was time to start approaching venues.
Our goal was to quickly sign up these venues so that we could launch Brick online alongside them when the stations arrived. We had high hopes of securing some high-profile venues or chains to kickstart our journey with a bang!
Selecting our first venues
To kickstart our venue sign-up process, we gathered together and brainstormed. We dedicated several hours to carefully select our Top 100 venues that we believed would be ideal launch partners. Our list included a mix of well-known chains like Starbucks, Sheraton Hotels, Hard Rock Café, and Subway, as well as popular local nightclubs, bars, and cafés.
As we discovered new venues that fit our criteria, we added them to our list. It may seem like a simple step, but it's important not to overcomplicate it. Just think about potential venues that would be a good fit and add them to the list. Keeping track of the venues and their progress was crucial to our overall success.
Selling without a powerbank sharing station
During this initial stage, we didn't have a fully operational product to showcase. We didn't have any physical stations, powerbanks, or even an app to demonstrate how our concept worked. This meant that when we approached potential venues, the concept of powerbank sharing was completely new to them.
So, what did we pitch?
During the Launch Phase, our pitch revolved around:
They had been selected as a key venue for our roll-out
How many others that already shown interest
The fourth point was crucial! Introducing new concepts can make people hesitant and reluctant to be the first to try them. My advice is to approach such pitches with caution, as some may be apprehensive about testing unfamiliar ideas. Only those who are bold are willing to take the leap and be the first to embrace something new. So, when presenting something as "first" or "new," it's important to be mindful of potential reservations and address them accordingly.
The value of the stations for the venue
We recognized that our product offering was limited to the medium 12-slot station during that time. Therefore, we directed our efforts toward customizing our value proposition to meet the specific needs of our potential venues:
Bars, restaurants, cafés, and nightclubs
It's free for the venue
Increased customer satisfaction, they can continue using their phone
Relieve staff from having to charge and be responsible for guests' phones
People are not stuck to a wall with a cord when charging
Extra exposure as the venue will be visible in the Brick app
Hotels
Increased customer satisfaction
Modern solution
It's free for the venue
Extra exposure as the venue will be visible in the Brick app
Shopping malls and fast food chains
Increased footfall
Higher spending, since customers might leave if they run out of battery
Modern solution
It's free for the venue
The best and most important selling point for any venue was "it's free". The fact that the venue doesn't have to pay anything to have a Brick station was a significant advantage. We emphasized the value of Brick as a useful service that could benefit the venue, its staff, and its customers. Our goal was to help venues understand how Brick could positively impact their business operations and enhance the overall customer experience.
Find the decision-maker
Finding the decision-maker at a venue can sometimes be a challenge, but it's not impossible. In some cases, it's straightforward, like at a local pub where the bar manager or owner has the authority to make decisions. Building a personal connection with them is relatively easier in such cases.
However, at other venues, it may be more complex. Franchisees may have the authority to launch value-added services, or they may need to contact headquarters for approval. Sometimes, even the venue itself may be unsure of the steps to take. In such situations, it may take more time and persistence to place a station, but it's definitely achievable!
The key is to stay determined, be patient, and use various strategies to navigate the decision-making process! Networking, building relationships, and communicating the benefits of Brick's service can help you overcome these challenges and eventually secure placement in the venue. With persistence, you'll get there!
How to reach out to venues
The goal of our outreach was to get a (quick) pitch meeting or schedule a visit where we could later demo the product. In part 2, I will delve into the various methods of reaching out and contacting venues, as well as share insights on what has proven to be the most effective approach for us!
What sales channels did we use?

Cold emailing
We relied heavily on emails to reach out to venues, understanding that it allowed us to contact a wide range of people efficiently. While the response rate was not always high, we sent many follow-up messages. Fortunately, our efforts paid off, as we received positive responses that led to fruitful calls and meetings! Emailing proved to be an effective method, showcasing the importance of perseverance and effective communication.
Cold calling
Calls were our go-to method for making a second connection. If we didn't receive a response to our emails, we found that reaching out by phone increased the chances of getting a reply and converting leads into meetings. To ensure we connected with the decision-maker, we developed a simple trick for venues like bars. We would call ahead and ask if the manager was available or inquire about their expected arrival time: "Is the manager in? No? When is he coming in? Okay, thank you!". This approach helped streamline the placement process by ensuring the decision-maker was present during our visit.
Unscheduled venue visits
Preferably, scheduling a visit with the venue is ideal. However, we discovered that a more efficient approach was to walk along a bar street and visit venues that we identified as potential partners. In just six hours, one person can visit up to 30 bars using this method. It's important to note that after the initial visit, it's crucial to schedule the delivery, installation, and onboarding of the station on a separate day to ensure a smooth process and solidify the partnership with the venue!
Contacts
We talked a lot about Brick. Everyone knows someone who may have a connection or can provide a shortcut to a decision-maker. Whether it's a friend working in a bar or a distant cousin who knows someone in a fast food chain, it's important to let people know about your venture and seek their support. You'll be pleasantly surprised by how many people are willing and able to lend a helping hand!
💡
''The key is to stay determined, be patient, and use various strategies to navigate the decision-making process!''
LinkedIn/Social media outreach
When reaching out to potential contacts on platforms like LinkedIn or other social media, it can be beneficial to see if you have any mutual connections or friends. This common connection can serve as an icebreaker!
Conversion rate ranking
Visit
Call
Email
Looking back, we realized that visiting venues in person had the highest conversion rate. It was a missed opportunity for us as we didn't prioritize this approach enough. So, the lesson learned is to get out there and personally visit venues if it's possible. It's a highly effective way to establish connections, showcase our offering, and secure placements.
In hindsight, visiting venues have, by far, the highest conversion rate. So get out there! We were bad at this. Very bad. We would have placed many more stations if we had just visited more venues.
5 important learnings
We brainstormed and created a list of potential venues that fit our criteria. As we discovered new venues, we added them to the list. Keep it simple and focus on venues that align with your goals.
When pitching, highlight the interest shown by others. Being the first to try a new concept can make people hesitant.
We customized our value proposition to address the specific needs of potential venues, emphasizing the fact that the station is free.
We emphasized the value of Brick as a useful service for venues, staff, and customers, our goal was to demonstrate how it could improve business operations and enhance the customer experience.
Visiting venues have, by far, the highest conversion rate. Don't underestimate the power of face-to-face interaction in building partnerships and expanding your network. Learn from our mistakes and get out there!
The result of the Launch Phase
As soon as we received our delivery of stations, we wasted no time in placing our first 40 stations at 30 venue partners. It was really cool to see our vision come to life and start providing our powerbank sharing service in partnership with these venues!
Become a Brick Partner
Powerbank sharing with Brick holds promising prospects for your success! A Brick Representative is ready to connect with you when you are. You can continue reading the essentials of a Brick partnership or get in touch.
Read part 2 - the expansion phase!