Brick Partnerships
Interview with Brick's Market Operator in Scotland
Brick's Market Operator in Scotland is excited to give you a detailed glimpse into the world of Brick!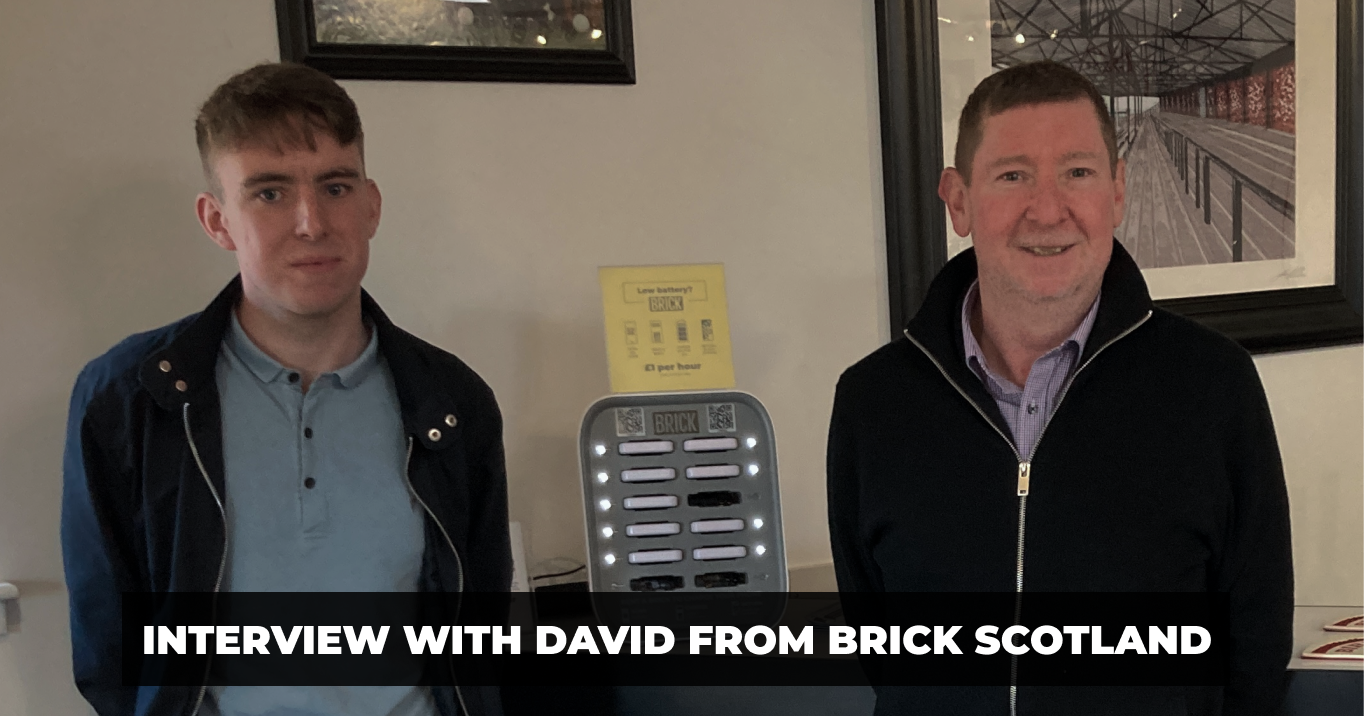 Do you want to know more about power bank sharing and how it is to work with us? We had a chat with David, the Market Operator for Brick Scotland to give you more insight into what it's like to be a Brick Partner!
What's the best thing about being a Brick Partner?
The best thing is that you're earning your own money and that you are the one who's in control of everything. Another great thing is the product itself, whilst you're earning money and owning your time, you're also providing a service that truly helps companies and their customers. Everyone needs to charge their phone.
What's the worst thing?
If I have to say something it would be technical issues since I'm not a tech guy myself. But that's also where Brick in Sweden gets to a rescue, you can always reach out to them and they'll help you out. If I had done this all by myself it wouldn't work. I need the comfort of knowing that there is someone I can contact if I need assistance with technical stuff. That's a big plus for me.
How did you experience the onboarding process from Brick?
It was good! There was a struggle in the first week of selling it when everything was new and you did not really understand exactly how it all worked. But it quickly turned for the better; from there it just took off.
Is there anything you wished you knew prior to becoming a franchisee/network partner?
Nothing that I can think of. If anything it's more about the technical side of the business and figuring out the product, how the stations and sim cards work etc. But the whole process of becoming a network partner was overall an easy process and did not require much from my side, which was nice.
What's your number one advice for others that are interested in becoming network partners around the world?
You need to speak with a lot of different people and companies and try to reach the owners first since they are the ones making the decisions. Always start with a phone call and go from there. That's what's been working out for me, calling and introducing myself and what I do, and then scheduling a meeting/demo. Once the customer gets to see the product and you meet them, most of the customers quickly understand it and want to have a station straight away.
Also that it's a journey and you need to be motivated to sell. Especially in the beginning, once you've figured out what's working for you and on your market, you can go from there and develop your business how you want basically, it's all up to you. You can earn money on a Friday night while you're at home relaxing.
Become a Brick Partner
Caught your interest? Becoming a Brick partner can get you started with €4580 as an initial investment. 20 stations will be the perfect launching pad for your network, giving you the boost you need to kickstart your network. It might be enough for you, but why not seize the opportunity to expand and grow? The possibilities are endless, and we're here to support you every step of the way!
Ready to jump in?