Financials
What Can I Expect to Earn as a Brick Partner?
Let's get straight to it: You're curious about your potential earnings, when you'll reach the break-even point, and how to maximize your profits.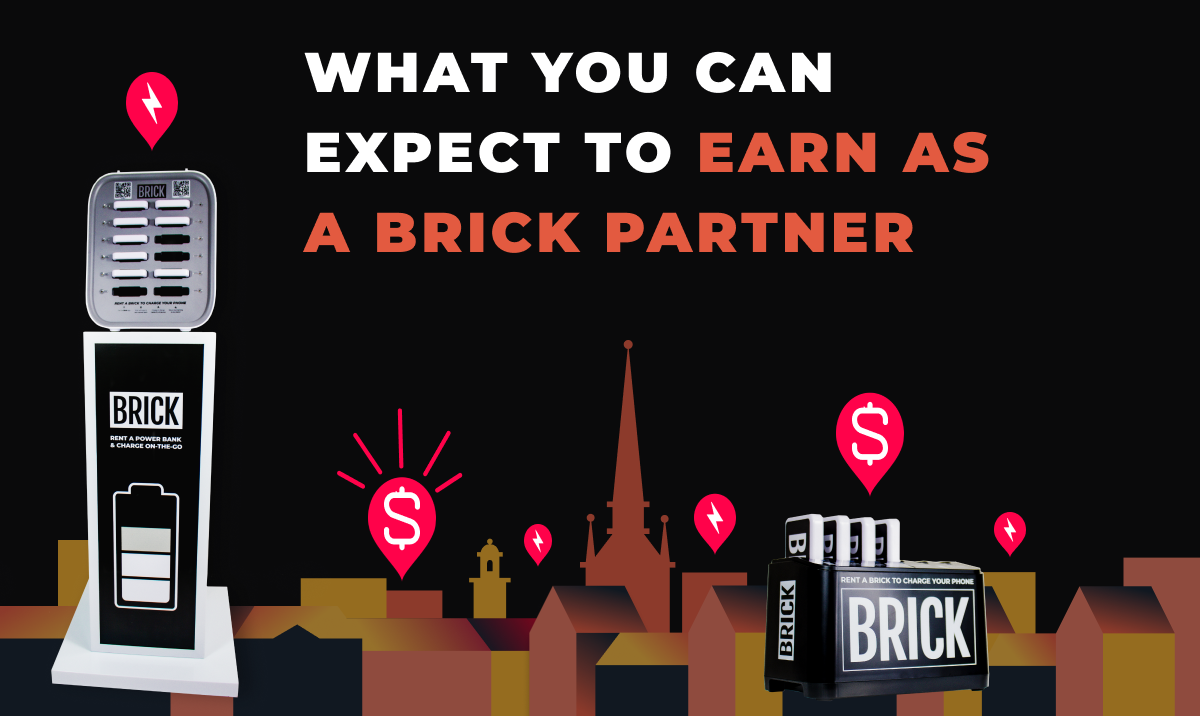 Let's be real; you want to know how much you can earn from those powerbank stations, when will you hit that break-even point, and what it takes to really amp up your earnings. We totally get it! Figuring out the financial side of things is key to mapping out your success and reaching those exciting revenue milestones.
Fees and Revenue Split for a Brick Partnership
Let's have a look at the fees and usual market costs for a Brick Partnership
The Market Operator's revenue split is 85%, and 15% to Brick
Network Partners' revenue split is 70%, with 30% to Brick
A monthly station fee of €5 per station in your market
Transaction fee from the Payment Service Provider, depending on your market
Tax (25% in Sweden)
Market Operators pay a yearly partnership fee
As you can see, certain factors, such as transaction fees and taxes, are market-dependent when starting your business. Understanding these costs will help you do your profit calculations. We strongly recommend thoroughly researching these aspects before scheduling a meeting with Brick. Doing so will significantly enhance the quality of the meeting!
Station Placement is Key
Once you've received your stations, it's time to swiftly place your stations in suitable venues and ensure that the venue staff is onboarded. Introducing a new concept to the market can be challenging and demands effort. However, if executed properly, you'll start generating income and track the rentals through the Brick Dashboard!
Different Markets, Different Prices
Different markets have varying price models, and as the expert in your market, you have the flexibility to set your own prices within your network. Typically, the standard rate ranges from €1 to €2 per hour, but you have the freedom to adjust this based on your judgment. For instance, if you believe a higher or lower rate would be more suitable, you can adapt accordingly!
Considering the average rental time across our global network is approximately 100 minutes, setting a rate of €2 per hour would result in €4 per rental in this example. It's important to note that the average rental duration encompasses all types of rentals, ranging from quick 3-minute rentals to extended five-day rentals. As time progresses and your presence in the market grows, the average rental per station and day is expected to increase.
Remember, the quality of venues and strategic placement plays a significant role in attracting more rentals per unit. Occasionally, customers may contact our customer support team to report issues related to their rental or pricing. While this typically does not have a significant impact on revenue loss, it is still important to consider!
💡
Example: you should expect revenue from €40+ per station per month when placed and onboarded correctly!
Minimum Order Quantity
The minimum order quantity at Brick varies depending on the partnership type. For Market Operators, the minimum order is 100 stations, while for Network Partners, it is 20 stations. You have the flexibility to choose a mix of station sizes for your order. To view a detailed calculation of revenue, please use our ROI calculator.
Become a Brick Partner
Powerbank sharing with Brick holds promising prospects for your success! A Brick Representative is ready to connect with you when you are. You can continue reading the essentials of a Brick partnership or get in touch.