The Partnership
What is the difference between a Market Owner and a Network Partner?
Finding the right partnership for you is basically up to your own goals for your business. Are you looking for an easy to manage side hustle that generates passive income or is your dream to put in the time and create a big business?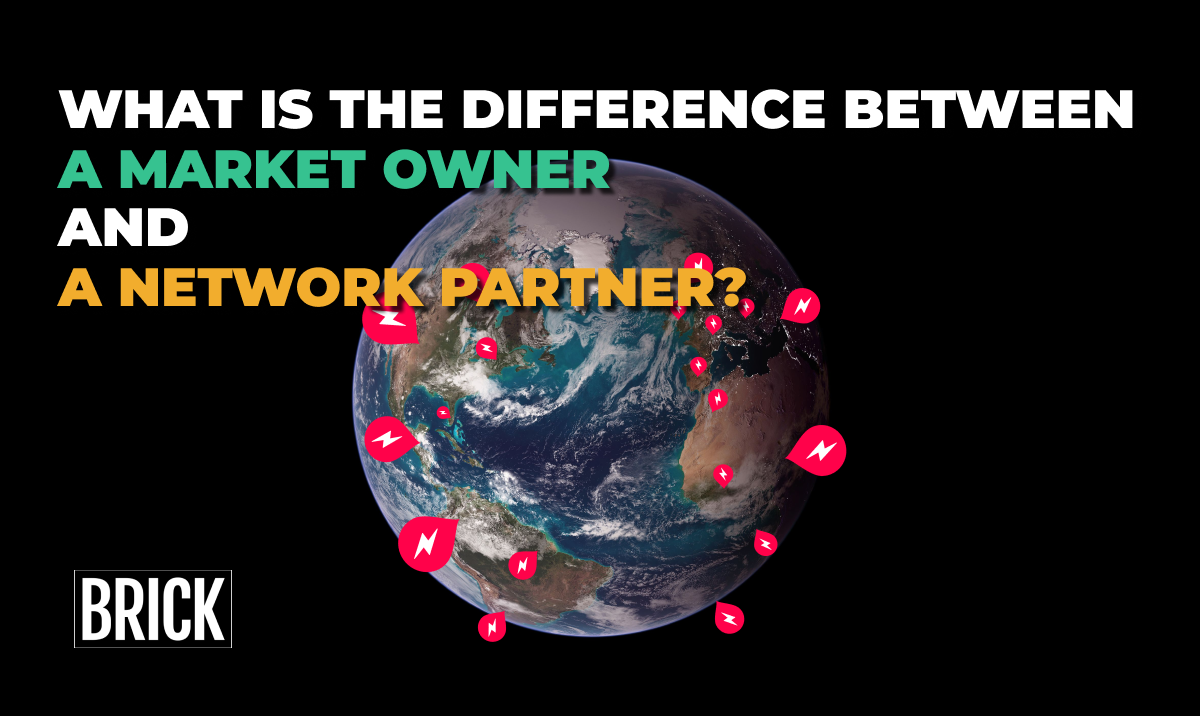 If you're checking out this article, you probably know what powerbank sharing is and what products we are offering. If not, you could start reading here! Or, just keep on reading this article to figure out what the difference between a Market Owner and a Network Partner really is.
What is a Brick Market Owner or Network Partner?
As a Brick Market Owner (MO), you can operate Brick exclusively in your market as a large scale business. No one can enter your market without your consent and you are in charge of growing your network. As a Network Partner (NP), you have a simpler solution where you have fewer stations and a passive income approach to powerbank sharing. A Network Partner is either a part of a Market Owner Network (with their consent) or is a non-exclusive partner in a market.
It's absolutely possible to go from a Network Partner to a Market Owner, talk to us about it and we'll tell you more!
Differences between being a Market Owner and a Network Partner
Number of powerbank stations
As a Market Owner, you are building a large scale business and growing your network within a sizeable area. To grow quickly, you'll start with a minimum of 100 stations. A Network Partner starts with a minimum of 20 stations, which you can place in your local area and passively gain income from.
Exclusivity in your market
As mentioned earlier, a significant difference between a MO and a NP is market exclusivity. A market can be an entire country or a large city; a metropole in the United Stated or an up-and-coming market in Africa. For an Exclusivity Fee, you can become a Market Owner and Bricks' exclusive partner in an area. No other partner can join this market without your consent. You have the right to expand over your area, but are required to reach Milestones to make sure you're growing at the right pace. We will cover this more in depth later on.
An Exclusivity Fee is not paid as a Network Partner and is therefore not exclusive in your area. This means that another NP could place stations in your area, or a MO could gain exclusive access. If this happens you can, of course, still continue your operations but need to work together with consent from Brick HQ and the Market Owner.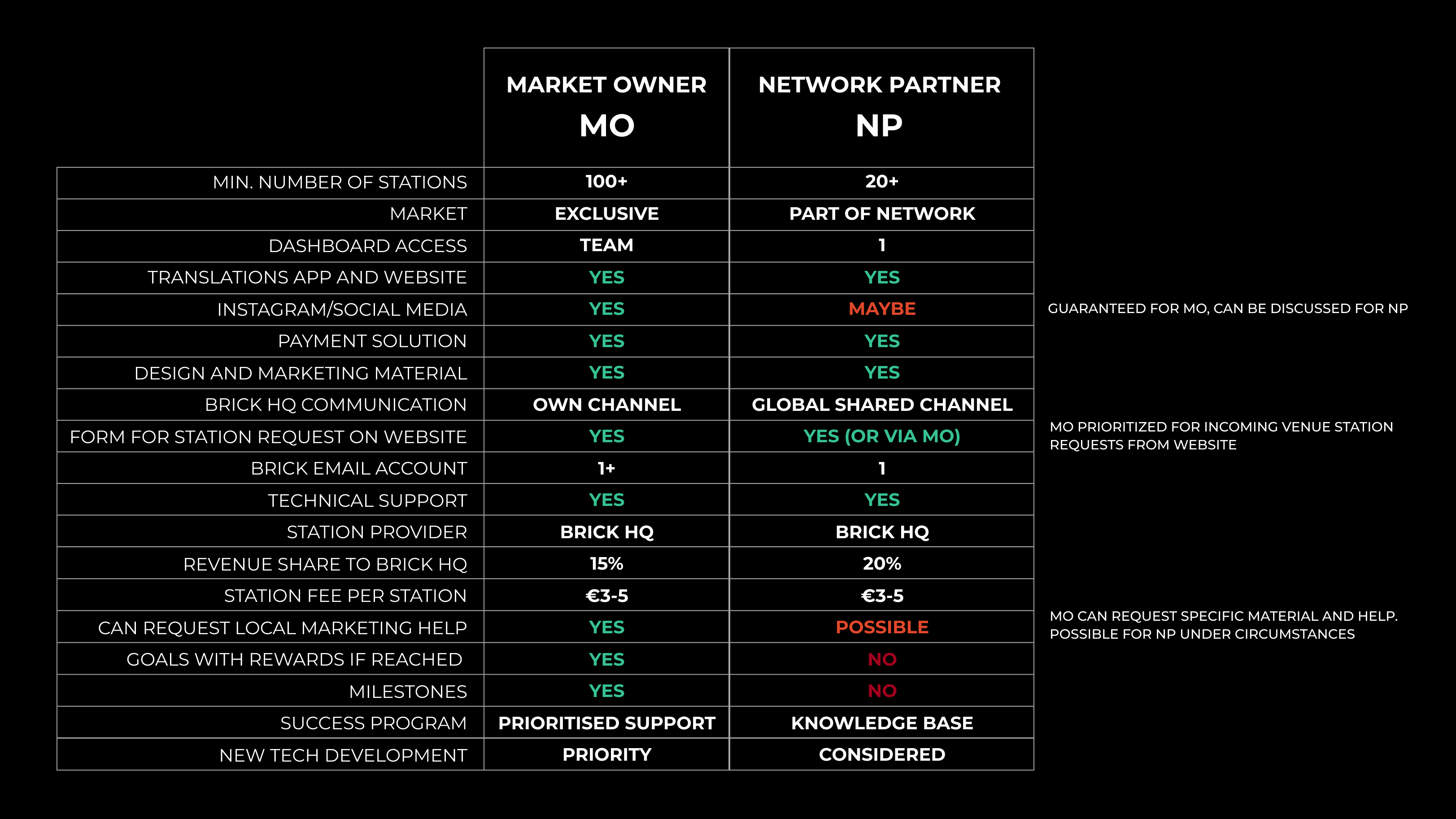 The operations software and solutions
All partners gain access to data insights and tools needed to manage, build and grow their shared powerbank business.
Email account
All partners will get a free official Brick email account. Market Owners can get more than one free account if needed.
The app and website
The app and website are always translated to any partner's language if needed. A Market Owner is always prioritized for incoming station requests from the website. Meaning, if someone orders a station for their venue, the Market Owner will be prioritized t before a NP in the same market.
Payment Solution
All partners have access to a payment solution that we will adapt to your local requirements. This payment infrastructure will allow you to manage payments from Brick.
Marketing and design materials
All partners have access to Brick's vast library of downloadable and editable marketing and design material. Market Owners can request specific materials and marketing help tailored to their needs. Network Partners can ask for help, specific materials could be produced under some circumstances.
Communication with Brick HQ
When it comes to communication with Brick HQ, a Network Partner gets access to a global shared channel. A Market Owner has access to the shared channel as well as a private channel for communicating directly with Brick HQ.
The Dashboard
The Brick Dashboard is built from scratch by our development team! It provides all partners insight into their venues, stations, rentals, and revenue. With the Dashboard your business can be managed entirely remotely if you want to.
This is one of our most important tools and partners of all sizes and markets receive access to the dashboard, and are taught how to get the most out of their partnership. The dashboard's powerful tools are created to gain necessary insights and to analyze what is working well, and what could be improved upon regarding the partners' powerbank sharing businesses.
Social Media
Market Owners are guaranteed access to an Instagram account for their exclusive market. It's possible for a Network Partner to potentially get access to an Instagram account, but it's not a guarantee.
Technical support
All levels of partnership gives you access to our technical support as well as customer support for users which are taken care of by Brick HQ in Stockholm.
Goals and Milestones for a Brick Market Owner
As mentioned earlier, Market Owners have Milestones they are contractually required to reach to keep their exclusivity. These Milestones are a way for both parties, the MO and Brick HQ, to ensure they reach their goals. These milestones are, among other things, related to well placed stations and a useful tool to help the MO build a successful powerbank sharing business! A Market Owner also has Goals with rewards if reached. These rewards can be, for example, a lower franchise fee.
To help you reach your Goals and Milestones, Market Owners have prioritized support in our Customer Success program and are in close contact with a Customer Success Manager via our communication channels. A Network Partner has access to our knowledge base and have non-prioritized support by our Customer Success Managers.
Finding the partnership for you
Finding the right partnership for you is basically up to your own goals for your business. Are you looking for an easy to manage side hustle that generates passive income or is your dream to put in the time and create a big business?
Read more about the partnership and pricing and apply here and we can help you find your perfect partnership with Brick and start your own powerbank sharing business!