The Partnership
What is the difference between a Market Owner and a Network Partner?
Finding the right partnership for you is up to your own goals. Looking for an easy-to-manage side hustle or do you want to put in the time and create a big business?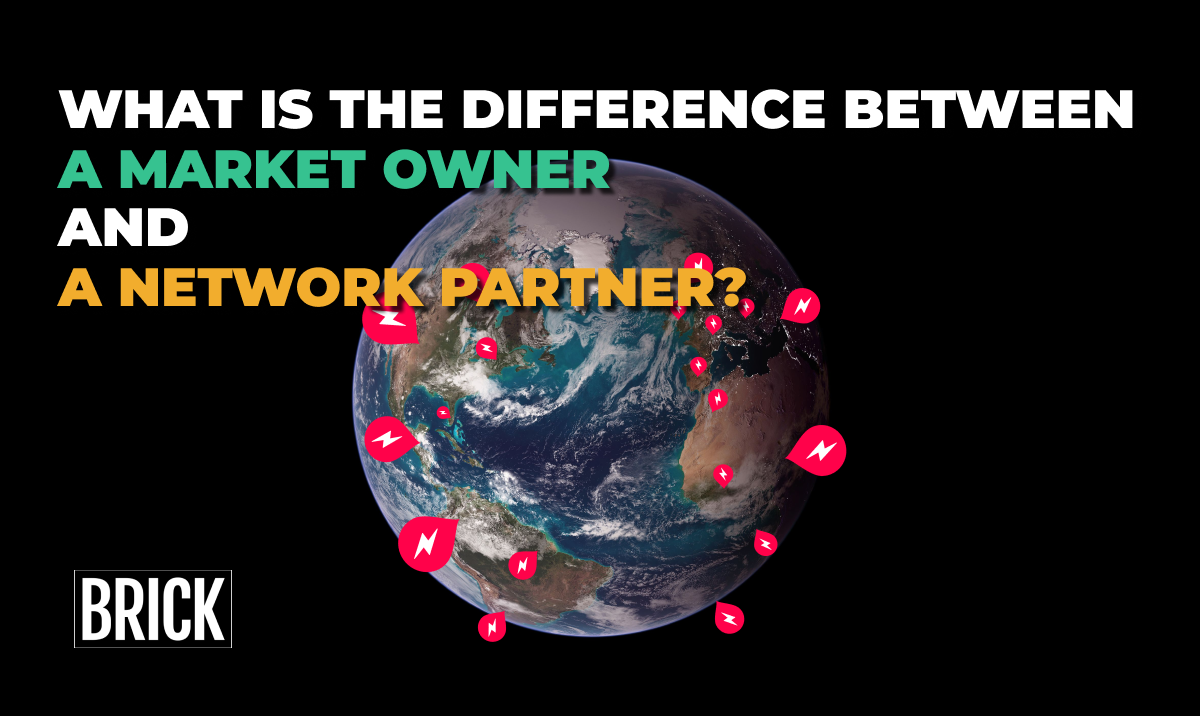 If you're reading this article, it's likely that you're already familiar with powerbank sharing and the products we offer. However, if you're new to this concept, you can start by reading more about the concept. Alternatively, continue reading this article to gain a better understanding of our partnership model: the distinction between a Market Owner and a Network Partner.
What is a Brick Market Owner or Network Partner?
As a Brick Market Owner (MO), you have the opportunity to operate Brick exclusively in your designated market on a larger scale. You have full control over the growth and development of your network, and no other entities can enter your market without your consent.
On the other hand, as a Network Partner (NP), you have a simpler setup with fewer stations and a more passive approach to powerbank sharing. Network Partners can either be part of a Market Owner Network with their consent or operate as non-exclusive partners in a market.
You can level up from being a Network Partner to becoming a Market Owner! It's an exciting opportunity for growth and expansion. If you're interested in taking your powerbank sharing business to the next level, reach out to us and we'll be more than happy to provide you with all the information and guidance you need.
Differences between a Market Owner and a Network Partner
Let's dive into the differences between being a Market Owner and a Network Partner.

Number of powerbank stations
As a Market Owner, you have the opportunity to build a large-scale business and expand your network across a substantial area. To accelerate your growth, you start with a minimum of 100 stations. This allows you to establish a significant presence and capture a larger customer base within your market.
On the other hand, as a Network Partner, you start with a smaller number of stations, a minimum of 20. This approach allows you to focus on your local area and generate passive income from the rentals of these stations. The network size is smaller compared to a Market Owner.
Exclusivity in your market
One notable distinction between being a Market Owner and a Network Partner is market exclusivity. As an MO, you have the opportunity to secure exclusivity in a specific market, which can be an entire country, a large city, or even a specific region. By paying an Exclusivity Fee, you become Brick's exclusive partner in that area, granting you the sole rights to operate and expand the network within that market. No other partner can enter the market without your consent. You are required to reach milestones to make sure your network is growing at the right pace.
As an NP, you do not have market exclusivity. This means that other NPs can place stations or an MO can take market exclusivity. It's important to note that even without exclusivity, as an NP, you can still continue your operations and generate income. However, you may need to work in cooperation with other partners within the market to ensure a harmonious and coordinated approach to powerbank sharing.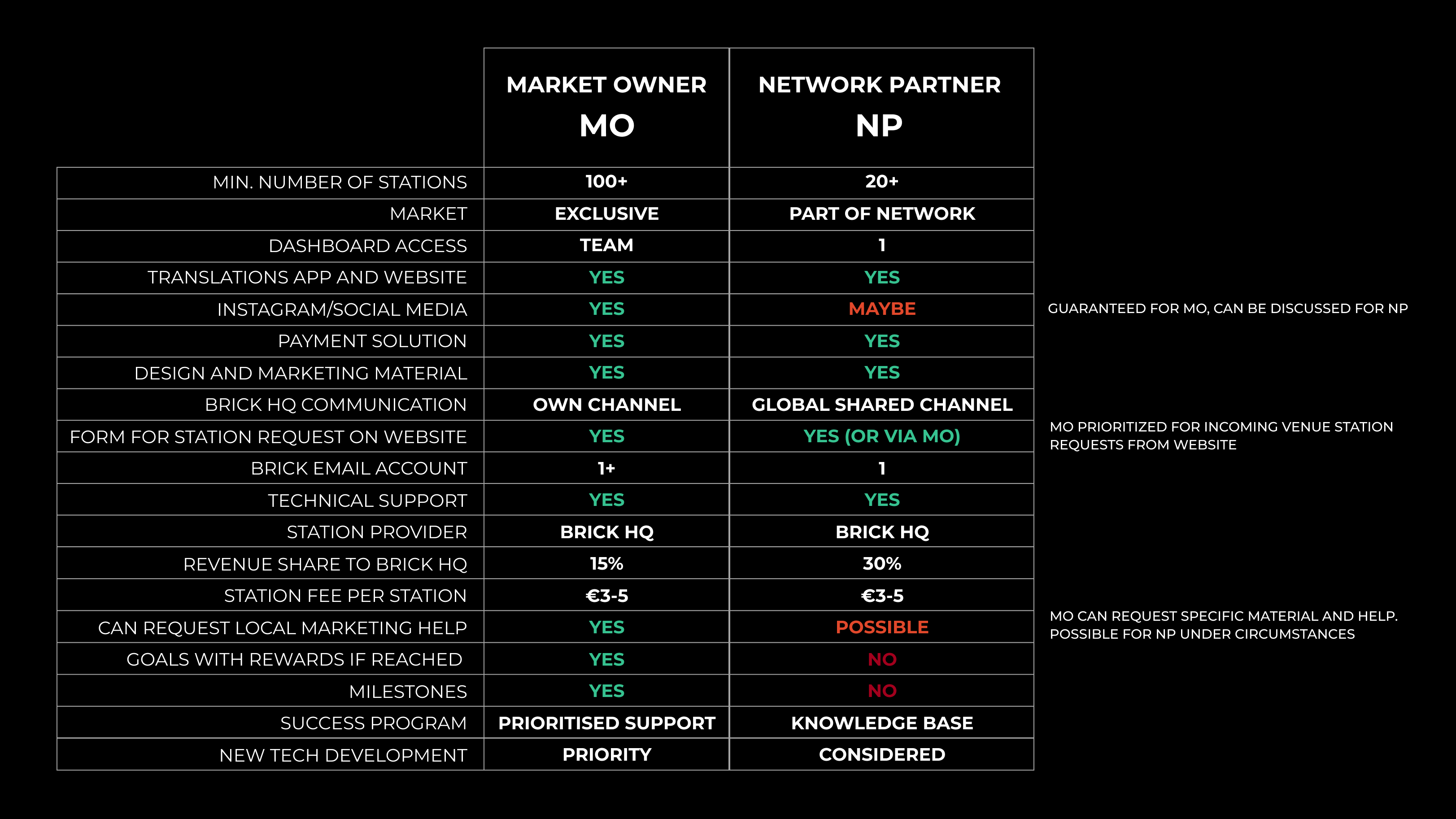 The operations software and solutions
Brick provides all partners with access to data insights and tools to effectively manage, build, and grow their shared powerbank business.
Email account
Partners will receive an official Brick email account, Market Owners have the option to request additional free accounts as required.
The app and website
The app and website will be translated into the partner's language. Market Owners receive priority for station requests from the website, ensuring that they are prioritized over Network Partners in the same market.
Payment Solution
All partners have access to a payment solution that will be tailored to meet their local requirements. This payment infrastructure enables partners to effectively manage payments from Brick.
Marketing and design materials
All partners have access to Brick's extensive library of downloadable and editable marketing and design materials. Market Owners have the added benefit of being able to request specific materials and receive tailored marketing assistance. Network Partners can also request help and, under certain circumstances, specific materials can be produced for them.
Communication with Brick HQ
When it comes to communication with Brick HQ, both Network Partners and Market Owners have access to a shared global channel. In addition, Market Owners have the advantage of having a private channel for direct communication with Brick HQ.
The Dashboard
The Brick Dashboard, built from scratch by our development team, offers partners valuable insights into their venues, stations, rentals, and revenue. With this tool, partners of all sizes and markets can manage their businesses remotely and make data-driven decisions. The Dashboard provides crucial information to analyze the success of their powerbank sharing businesses and identify areas for improvement.
Social Media
Market Owners are provided with an Instagram account for their market, allowing them to promote their powerbank sharing business. While it is possible for Network Partners to potentially gain access to an Instagram account, it is not guaranteed and will be evaluated on a case-by-case basis.
Technical support
Regardless of the partnership type, all Brick partners have access to our technical support team, as well as customer support for users. Our team at Brick HQ in Stockholm is here to assist and address any technical or customer-related inquiries you may have!
Goals and milestones for a Brick Market Owner
Market Owners have contractual Milestones that they are required to achieve to maintain their exclusivity in their designated market. These Milestones serve as a means for both the Market Owner and Brick HQ to ensure that their respective goals are met. Milestones typically involve aspects such as strategic placements of stations and other measures aimed at building a successful powerbank sharing business.
In addition to Milestones, Market Owners also have specific goals with corresponding rewards, such as a lower franchise fee, if they are achieved. To assist Market Owners in reaching their goals and milestones, they receive prioritized support through our Partner Success program. They have dedicated communication channels with our Partner Success Managers who provides guidance and assistance.
On the other hand, Network Partners have access to our comprehensive knowledge base and receive support from our Partner Succes Managers, although it is non-prioritized.
Become a Brick Partner
Becoming a Brick partner can get you started with €4000 as an initial investment. 20 stations will be the perfect launching pad for your network, giving you the boost you need to kickstart your network. It might be enough for you, but why not seize the opportunity to expand and grow? The possibilities are endless, and we're here to support you every step of the way!