Financials
What Can I Expect To Earn As A Brick Partner?
How much will I be earning from the powerbank stations, when will I be past break-even, and what will it take to earn even more?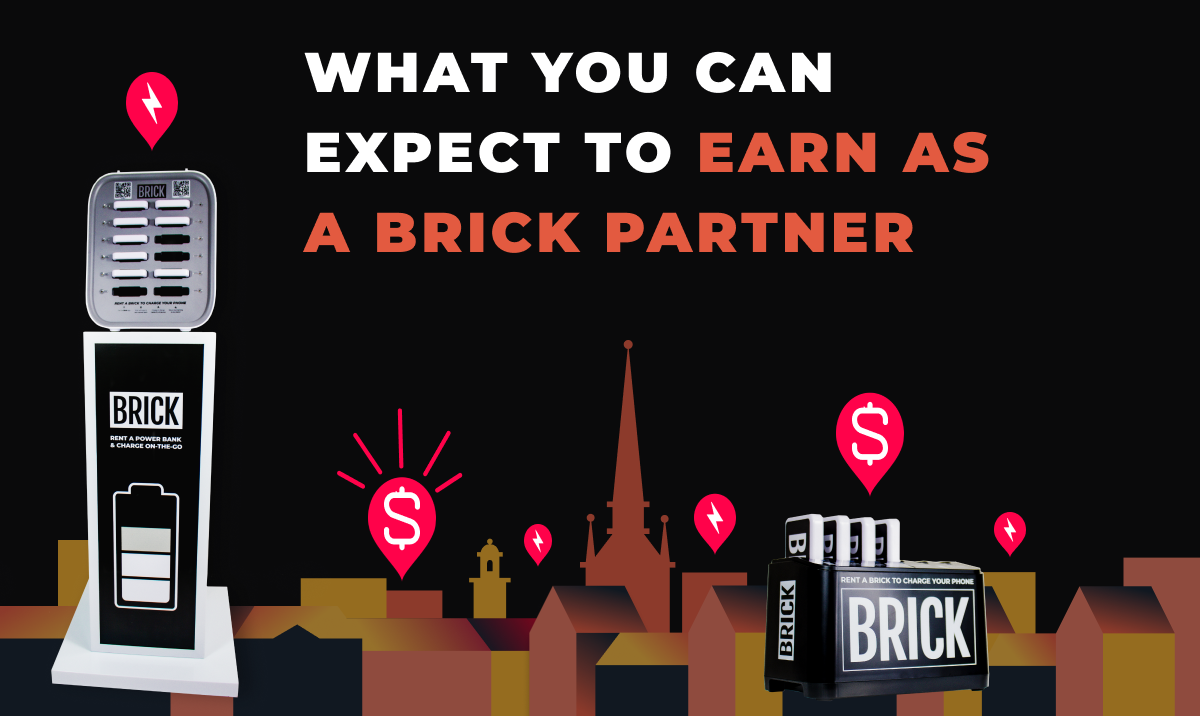 Looking into starting your own power bank network means that you're probably looking for answers to thousands of questions. Some things are already clear: you like the idea, see the market need, and have asked around at a couple of pubs or restaurants if they would be interested in the product.
Our guess is that revenue is one of the most important things in your mind at this stage - how much will I be earning from the stations, when will I be past break-even, and what will it take to earn even more?
Fees and revenue split for a Brick partnership
Let's look at the fees and usual market costs for a Network Partner at Brick:
Revenue share split of 85% to the Market Owner, and 15% to Brick. Network Partners' revenue split is 70%, with 30% to Brick
Monthly station fee of €5 per station in your market
Transaction fee from the Payment service provider, depending on your market
Tax (25% in Sweden)
Monthly exclusivity fee (if you want to become a Market Owner, depending on the market size from €500 and up)
As you can see, there are a couple of factors that depend on the market where you would like to start your business, like the transaction fee and tax. Understanding these costs will make it a lot easier to calculate your profit, so we strongly recommend you look into this before booking a meeting with the company you are looking to partner with. Doing so will improve the meeting quality a lot!
From then, you want to start placing your stations as quickly as possible in the right type of venues and making sure to onboard them properly. This is where most people will make it or break it, as introducing a new concept to the market can be tough and require a lot of work put in. If done correctly, you will start earning passive income and can track the rentals through the dashboard of your supplier or payment service provider.
Different markets, different prices
Different markets have different price models, and as you are the market expert you will set your own prices in your network. A normal price rate is usually €1-2 per hour, but depending on what you think, that number can be increased or lowered accordingly. As the average rental time in our global network is around 100 minutes, a rate of €2 per hour would give you €4 per rental in this example. Keep in mind that the average rental duration is with all rentals in mind, from a 3-minute rental to five full days. As we write this article, the average rental per station and day is 1, but as time in the market increases, this number is bound to increase. The better the venues and placement are, the more rentals you will get per unit!
(Example: you should expect revenue from €40+ per station per month when placed and onboarded correctly).
Sometimes, end customers reach out to us through customer support to report an issue with the rental or pricing. This is not a big factor in revenue loss, but should also be taken into account.
The minimum investment and ROI calculation
The Minimum Order Quantity (MOQ) upon signing at Brick is 20 stations for Network Partners, and the MOQ for a Market Owner is 100. To see a more thorough calculation of revenue, please click HERE. Our station prices are written out at the end of this article for reference.
We hope that this helps you in terms of calculating the revenue. As this concept is very new and still being introduced to the market, we estimate that revenue will increase as time goes on and power bank sharing becomes a well-known and used service. If you have questions, please read our other articles or set up a meeting with us!
Interested in building passive income or a large-scale business?
The start-up cost of becoming a Brick partner is €4.000. For many, 20 stations and a passive income from their Brick stations is more than enough. To others, it is an opportunity to build a large-scale business without having to add a range of operating costs.
Interested? Go ahead and apply to become a network partner
You might also want to read: