Brick Partnerships
What Are the Traits of a Successful Brick Partner
Like any solid relationship, a Brick partnership thrives on trust, communication, and an entrepreneurial spirit. We're seeking partners with a proactive attitude, eager to invest effort in building and expanding their Brick network in the local market!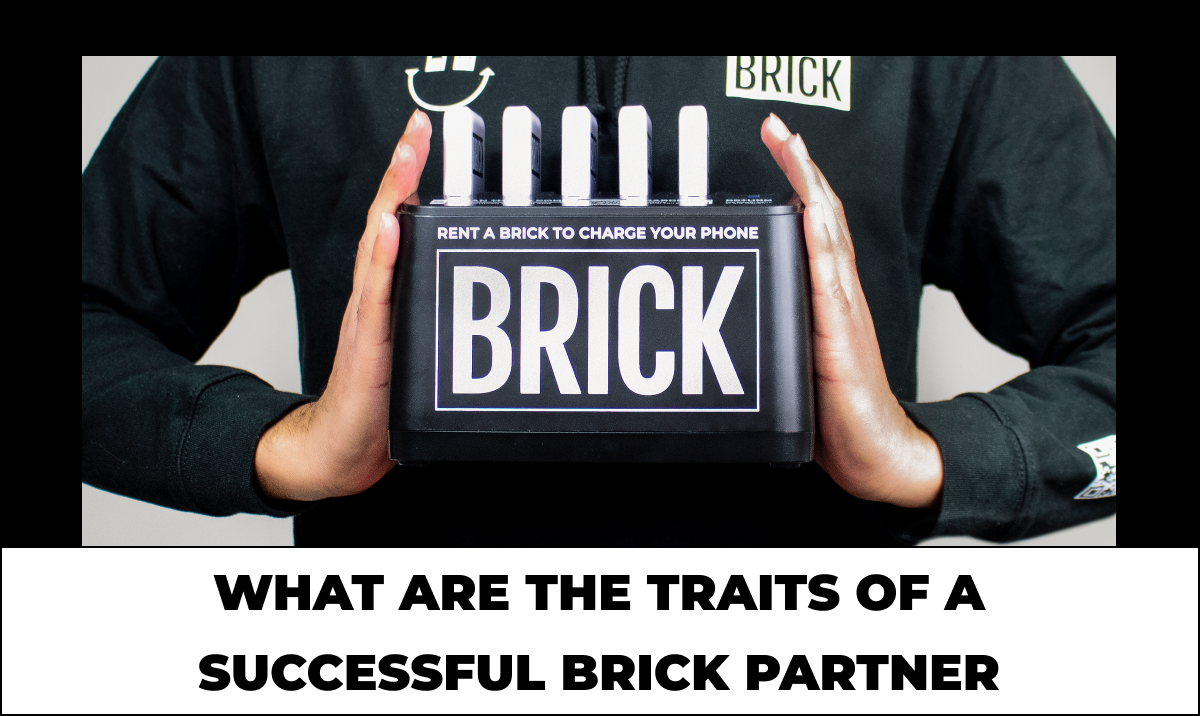 Similar to any healthy relationship, a Brick partnership is built on trust and communication and embodies an entrepreneurial spirit. We're looking for partners with a go-getter attitude, ready to put in the effort to build and grow their Brick network in their local market!
Placing stations for profitability
Connecting with your network, finding contacts, and meeting decision-makers at venues are key steps to securing placements. The perfect partner, with 100 stations, strategically places all stations within the first hundred days of their market being active, ensuring the fastest path to profitability.
Afterward, it's crucial to place stations in venues with high foot traffic, aligning with our core user demographic's preferred locations. This strategic placement ensures profitability for the stations. On the flip side, placing stations where users can't spot them or in venues where the staff is unaware of the service is the least effective approach to growing your network.
Doing the work
Partners who are resourceful and ready to hit the pavement, going from venue to venue in person, showcasing the service with a station in hand, have a better chance of getting a venue to sign on. Doing this groundwork at the beginning, ideally securing venue agreements before the stations hit your market, is the quickest way to broaden your reach.
Starting in the most densely populated area with affordable bars in your market is a smart move. It helps expand the network and encourages users to adopt the habit of renting powerbanks from Brick stations. Having a concentrated network of stations in popular spots makes it easy for customers to try out a Brick, go about their day, and return powerbanks across the network!
Understand the market
Brick partners who truly grasp their market and understand users' needs can effectively pitch stations to venues, boosting the placement rate swiftly. Venues stand to gain significantly from Brick stations, alleviating the hassle of managing customers' phones, dealing with charging cords, and users searching for outlets. The service eases users' battery concerns, encouraging them to spend more time at a venue—a compelling benefit for most establishments.
After laying down the basics, it's time to connect with larger-scale venues. Think convention centers, universities, and other sizable spots - ideal locations of Brick stations. Now, finding the decision makers to approve a placement for these types of venues can be tricky. Consider a creative angle such as through campus security at a university, rather than through campus services. For an airport, consider finding a food and beverage outlet for the stations, rather than going through the central airport authority.
Brick's expectations
Brick partners are responsible for the maintenance of their stations and for securing placements at venues. We trust our partners to identify optimal locations with high footfall traffic, ensuring smart and highly visible placements. Station maintenance involves promptly testing received stations to guarantee successful connections to the Brick network. Once they've passed the test, it's time to drop them off at the venue for placement.
To support our partners, we encourage the use of available resources like the Academy and Help Center in the Brick Dashboard, along with the Intercom bot and other tools. These platforms offer swift answers to common questions our partners may have.
Lastly
Finally, having a nuanced understanding of your market and its needs is the key to successful placements. Crafting a compelling business case and swiftly getting those stations out there will fast-track your journey to profitability. Take full advantage of the available resources to ensure speedy answers and support along the way! Take full advantage of the available resources for quick answers and support throughout your partnership!
Become a Brick Partner
Becoming a Brick Partner can get you started from €4580 as an initial investment, making our partnership a viable path towards passive income. For grander plans, we offer market operator possibilities, where we work together to achieve high growth towards market saturation. The possibilities are endless, and we're here to support you every step of the way!