Sales
Selling points when placing a powerbank station
Building your network takes time and requires you to meet with many different people and venues. You'll approach different venues and will need to use different selling points. Here are some other selling points you can use for your pitch.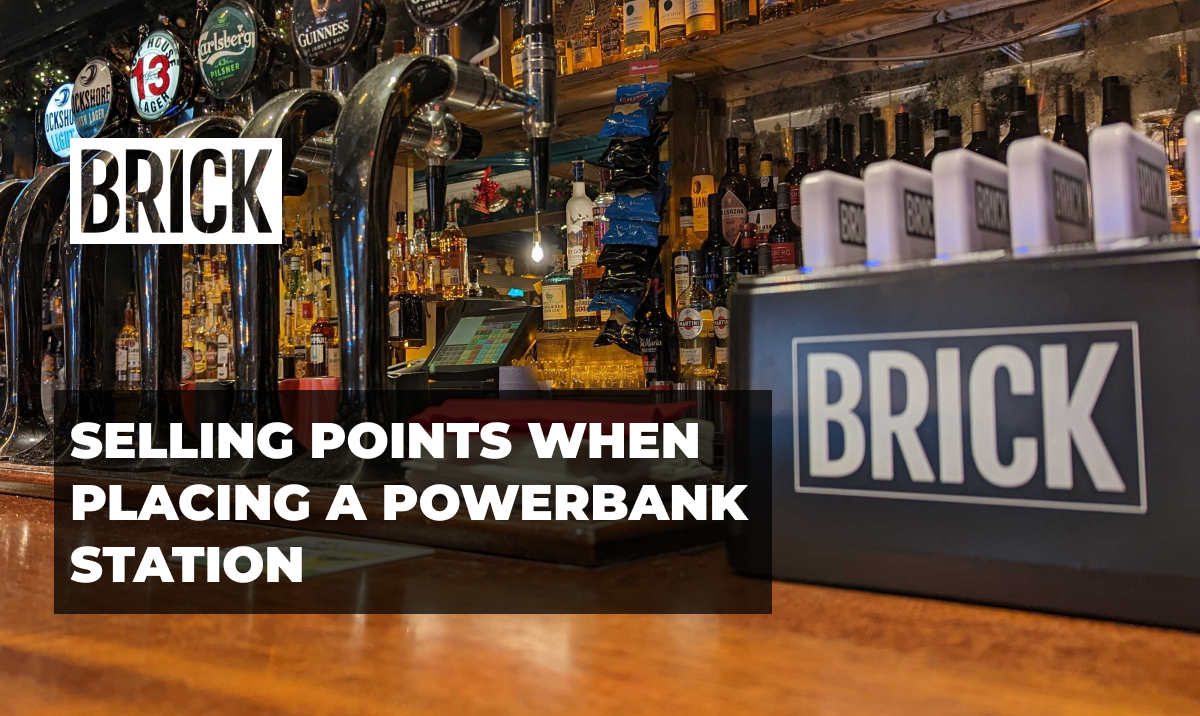 We have talked about where you should place the powerbank stations according to their size and suitability. By popular demand, we will now dive into the selling points you can use when approaching a venue with your powerbank solution!
Building your powerbank sharing network
Building your network takes time and requires you to meet with many different people and venues. If you're the first one to bring powerbank sharing to your city, you will encounter people who don't know what it is or how it works. It will feel challenging, but don't get discouraged - you'll get the hang of it! As your network grows, powerbank sharing will grow and sales will follow.
You'll approach different types of venues and will need to use different selling points. Think about how you would pitch Brick for a bar or a shopping mall. The common goal is to help them realize how Brick can help their staff and customers!
How to find out if a venue has a need for a powerbank station
Any venue could benefit from a Brick station. Before starting your sales rounds, some simple research will help you succeed. The best way to do this is to visit the venue and talk to the staff: ask questions, listen, and visualize how a Brick powerbank station could help them. Go to the venue when it's not busy or crowded and strike up a conversation with a staff member.
Here are some questions you could use during a relaxed visit:
Can I charge my phone?
How often are you asked if someone could charge their phone?
Do you have a charger that customers can use?
Do you charge customers' phones behind the bar/counter?
These simple questions about charging phones at a venue actually reveal a common frustration for both staff and customers. Staff members don't want the responsibility of handling customers' phones, and customers don't want to be left without battery power. Even when venues provide charging cables, they often go missing or get stolen. In short: nobody wins. That's where Brick comes in! Once venue staff understand the convenience and benefits of our powerbank station, they are usually eager to embrace the solution and say goodbye to phone charging headaches.
Common selling points to venues
If you have a demo station available, it's highly recommended to bring it to your sales meetings. Being able to demonstrate the ease of setting up, renting, and returning a powerbank can make a significant impact!
Here are some other selling points you can use for your pitch:
No responsibility for phones that are charging behind the bar or counter
How often does the venue purchase chargers that eventually disappear or get stolen?
Battery anxiety is a real thing! Phones are used for communication, transportation, digital locks, calendars - you name it. Reason enough for people to feel restless and uneasy with low battery
The venue doesn't have to pay for anything except for the electricity for the stations
People might leave the venue to find a charger, Brick could increase customer dwell time
Everyone prefers to charge in their hand instead of giving their phone away
People prefer to charge with a powerbank on-the-go than being stuck to a wall with a cord
Extra exposure as the venue will be visible in the Brick app
The stations are fully automated and delivered ready-to-go
Brick HQ takes care of everything related to customer charging, service, and support
Staff uses Brick for free!
Remember to tailor your pitch to the specific needs and interests of each potential partner, highlighting the benefits that align with their business goals! The most important point to make is that people have their lives on their smartphones. Ask the venue how often they use their phone for their everyday activities and make them think about their usage. It will help you to get your message across why powerbank sharing is a necessary service.
After placing a station, it's time to move on to the next important step: onboarding the venue. Now go forth and build your powerbank sharing network!
Become a Brick Partner
Becoming a Brick partner can get you started with €4000 as an initial investment. 20 stations will be the perfect launching pad for your network, giving you the boost you need to kickstart your network. It might be enough for you, but why not seize the opportunity to expand and grow? The possibilities are endless, and we're here to support you every step of the way!
Ready to jump in?