Get started
Why no marketing?
Word-of-mouth is your friend for getting new users and new venues. Putting money in marketing before you have placed enough stations is not ideal. If there's no network there's no need for marketing.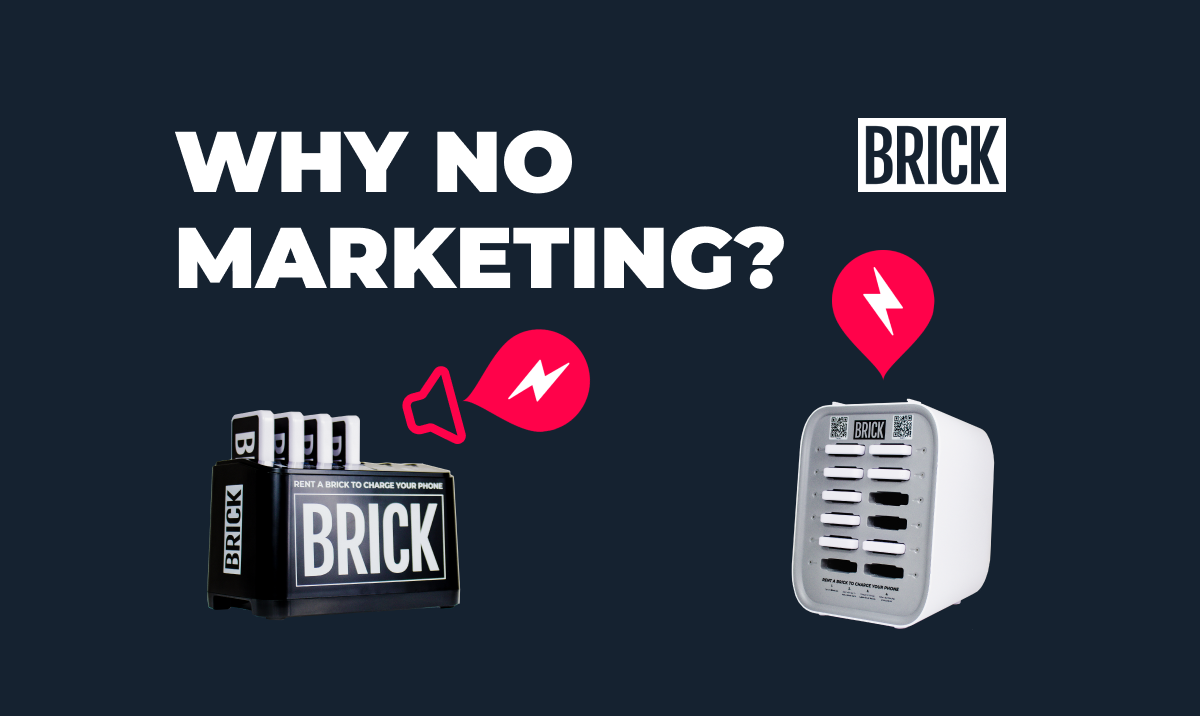 When launching Brick in a new market, marketing shouldn't necessarily be a priority as this is a product that does the work for itselves. When people really need the product they are going to go for what is available. If Brick is available at popular bars, restaurants, cafes, and clubs across your market then they will go for Brick. The Brick stations are also the kind of product that individuals will come back again to if they know of it and enjoy the service.
Place powerbank sharing stations and onboard the staff
We at Brick are not saying that we won't help or provide marketing for your market and stations, but we would ideally like you to place your stations in venues and onboard them first. Onboarding a venue entails having the station present, showing it to staff at the venue, explaining the product and informing about the service. It can be helpful to also provide them with promotional codes from the dashboard so the venue staff can rent for free, get to know the product and then show users in the venue how to use it as well.
It is good to create a friendly rapport with the staff at the venues as they will effectively be Brick representatives once you drop off the stations. They will constantly be face to face with the users. Rather than just dropping off the station and leaving, it is important to make sure the staff knows about the product and is excited about it too.
Do not market something that is not there yet
It is not ideal to market a network of stations before you have placed enough. If there's no network there's no need for marketing. Instead, it is important to put time and effort in placing your stations in popular venues (such as bars, nightclubs, and shopping malls) where people in your market will hang out and use Brick.
Not only is it important to place the stations in popular venues but it is also important to place the stations in good locations within the venue. Simply put, placing stations where the users can easily spot and also access the stations to rent.
Let the powerbank sharing station work for you
By placing the stations in popular venues, in great spots in these venues and also properly onboarding the staff you can make sure the station can work for you. As we mentioned earlier, if people with low battery can easily find the station they will be used. A visible station in a good location is also the best billboard you can ever get. It's a product, a service and a marketing and brand awareness tool all wrapped in one.
Word-of-mouth is your friend for getting new users and new venues. If people like the product they will promote it and word will spread to both new users and new venues. This is the most cost-effective way to market your products at the initial launch and expansion phase.
Marketing materials at Brick
Here at Brick, the marketing materials you receive is depending on the type of partnership you engage with. Both our Network Partners and Market Owners will receive logins to our marketing tools. You can access many pre designed stickers, flyers, posters, and more made by our marketing team which is ready to be used for your market. You can edit the designs in your local language and print them in your local market.
If Brick does not have the marketing material that you are looking for, then you can get in touch with your Partner Success Manager to talk through collaboration. Please keep in mind that due to the size of their time and monetary investment, Market Owners are prioritized first.
Brick is here to help you realise your vision
Brick is here to help and support you in all areas of your business, and we found it is a good strategy to place the stations in your network first before you put time and money into marketing. Once you have created a network then we are happy to provide you with the tools we have and help you achieve the vision you have for your business!
If this article sparked your interest to apply to become a partner with us here at Brick and you would like to get more information, apply for a meeting with our Partnership Specialist.